The Philippines hosted the recently concluded WORLDCHEFS Asian Presidents Forum (WAPF) 2023, welcoming delegates and presidents from sixteen (16) member societies, two (2) associate member groups, as well as organizational heads of the World Association of Chef Societies (WORLDCHEFS). This was the first time the event was held in the country, with the last occurring in Bangkok in 2019.
Co-organized by the Tourism Promotions Board Philippines (TPB) and LTB Philippines Chefs Association, the WAPF kicked off with an opening ceremony on July 31 at Conrad Manila. Forum events ran until August 5 and aimed to bring together culinary experts from all over Asia to share culinary heritage, industry best practices, and sustainability goals through knowledge-sharing sessions, competitions, and outreach programs scheduled throughout the weeklong conference.
Philippine Tourism Secretary Christina Garcia Frasco shared that the event was a good showcase of the country, saying that President Ferdinand "Bongbong" Marcos Jr. "envisions the Philippines to have a more primary role in Asia in terms of being able to reintroduce itself to the world, not only on the aspect of fun and adventure, but most importantly, to allow you to get to know the heart and soul of the Filipinos that lies in our history, our heritage, our identity, and our living cultural traditions, including and especially, our culinary traditions."
"We are given a unique opportunity to listen and learn from experts about developments in the culinary field. The world is more connected, now more than ever, and this has vastly influenced and changed the way we look at food, especially in recent years. People from all over the world are constantly seeking new gastronomic experiences," said TPB Chief Operating Officer Margarita Montemayor Nograles.
Attending member societies include LTB Philippines, Association of Culinary Professionals Indonesia, Cambodia Chefs' Association, Chefs Association of Pakistan, Chefs Guild of Lanka, Chefs Guild of Maldives, China Cuisine Association, Hong Kong Chefs Association, Indian Federation of Culinary Associations, Korea Chefs Association, Mongolian Chefs Association, Professional Culinaire Association of Malaysia, Singapore Chefs' Association, Taiwan Chefs Association, Thailand Chefs Association, and The Saigon Professional Chefs' Guild.
The associate member groups of Penang Chef Association and Karachi Chefs Association were also present.
"So many presidents and so many representatives from WORLDCHEFS member countries, [who] are here in the room, shows that Asia is one of the powerful forces in WORLDCHEFS," said Chef Thomas Gugler, WORLDCHEFS president.
Also in attendance to give talks on Filipino food heritage and food sustainability in hospitality establishments were Felice Prudente Sta. Maria and Chef Meik Brammer, respectively. LTB Philippines' Chef Fernando Aracama hosted a panel discussion with Chefs Stephan Duhesme, Carlos Villaflor, and Jordy Navarra about the Philippine culinary scene.
Chef KK Yau, WORLDCHEFS assistant vice president, gave an update on WORLDCHEFS Without Borders' Chef Social Responsibility efforts in Syria. While Chef Alan Orreal, WORLDCHEFS Young Chefs chairman, spoke about the necessity of bridging the gap between young chefs and the old guard of the culinary world.
In anticipation of the week's events, Chef Rick Stephen, WORLDCHEFS Culinary Competition Committee chairman, gave a rundown of culinary safety and competition standards.
Chef Carlo Miguel, LTB Philippines president, said, "We've always wanted to be able to showcase Philippine hospitality to our Asian neighbors … We can show them how advanced we are in our culinary skill through the Philippine Culinary Cup as well."
Organized by PEPTarsus Corp., the World Food Expo (WOFEX), a long-running Philippine food trade show, was held from August 2 to 5 at SMX Convention Center and World Trade Center. WOFEX hosts the only WORLDCHEFS-accredited culinary competition in the country, the Philippine Culinary Cup, which ran on August 5 along with the semifinals of the WORLDCHEFS' Global Chef Challenge.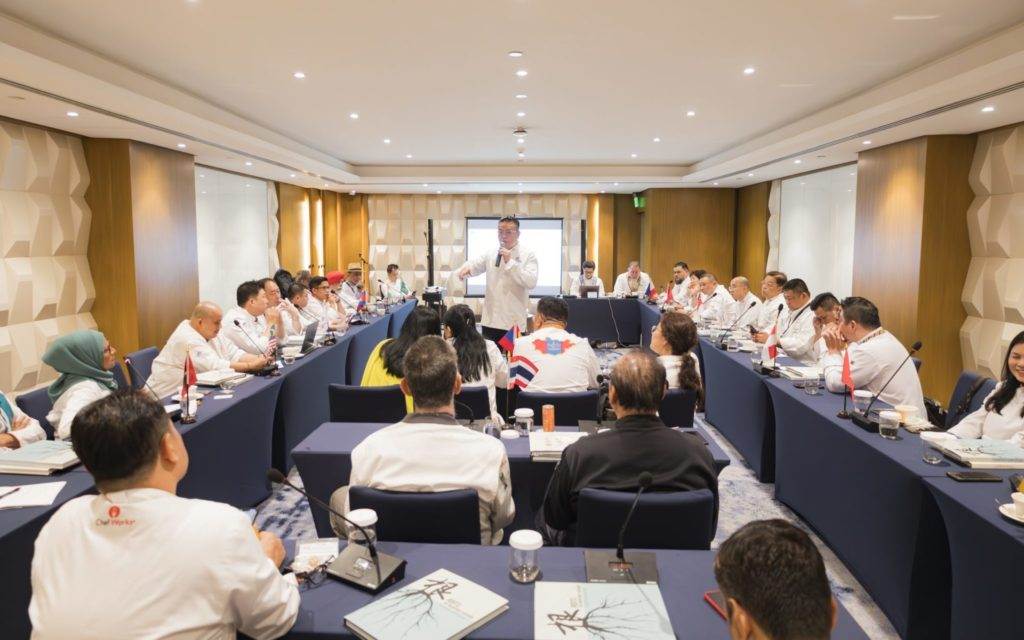 According to Chef Willment Leong, WORLDCHEFS continental director for Asia, the Global Chef Challenge itself had amassed a record number of participants for the association, with 51 chefs from 11 different member countries engaging in this Philippine leg.
Leong also facilitated the launch of the WORLDCHEFS e-book "Food of Asia, Soul of Asia." Available on the WORLDCHEFS website, the e-book features authentic recipes across the continent crafted by member association chefs.
Joel Pascual, PEPTarsus president, spoke about the benefits of MICE (meetings, incentives, conferences, and exhibitions) events such as the WAPF in boosting local trade and travel. "We are indicating that the Philippines is open for business," he said.
Chef Leong said, "Hospitality from the Philippines is unbelievable … This [has been a] tip-top, world-standard forum .. We look forward to [coming] back to this beautiful home we call the Philippines."
Find the original article here.