Welcome to Worldchefs Podcast: World on a Plate. Each week we feature conversations with top chefs and leading voices in hospitality exploring food, innovations, and industry news. In our inaugural episode, host Ragnar Fridriksson talks with Worldchefs President Thomas A. Gugler, who is currently quarantined in Saudi Arabia, to discuss the cancellation of Worldchefs Congress & Expo 2020.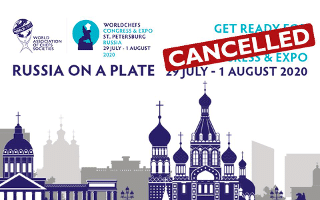 Congress Committee Chairman, Andy Cuthbert, joins to share insight on the difficult decision to cancel Congress 2020 due to the COVID-19 pandemic. Tune in to find out how Worldchefs reacted to support members and bring online education and networking to the chefs around the globe.
Additional Resources
Learn more about the cancellation of Congress 2020 in the official press release.
Worldchefs developed a COVID-19 Resource Hub to help chefs navigate these challenging times.
Want to win a FREE GIFT? Subscribe and leave a review to enter to win.
Acknowledgments
Worldchefs Podcast: World on a Plate is sponsored by Nestlé Professional, making more possible.