Energy saving with commercial refrigerators 
From counters to cabinets, commercial refrigeration equipment represents nearly a third of the energy used within a professional kitchen. As it is rarely – if ever – switched off, operators could be forgiven for thinking that high running costs are unavoidable. However, when properly specified and regularly maintained, that needn't be the case.
What is an energy-efficient commercial refrigerator?
The easiest way to determine the energy efficiency of a commercial refrigerator is to look at its energy label. Energy labels were first introduced for commercial catering equipment under the EU Energy Labelling Directive (part of the Ecodesign Directive) in July 2016. Appliances are rated 'A+++ to G', with 'A+++' being the most efficient class and 'G' being the least.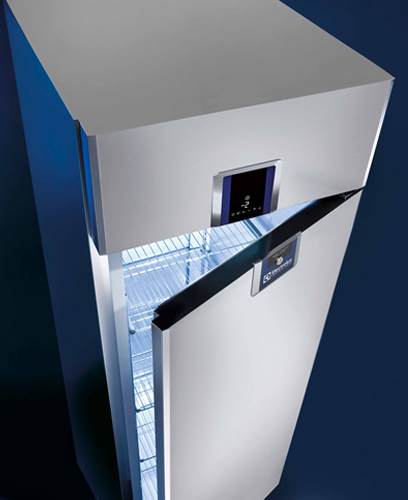 Energy labels for commercial refrigeration equipment also display further key information, such as the total recommended capacity and the annual energy consumption (kWh/annum).
Another helpful performance indicator for operators to be aware of is Climate Class, which illustrates the appliance's ability to correctly preserve food in different working conditions. Given the typically high temperatures in a professional kitchen, operators should consider commercial refrigeration units built to Climate Class 4 or 5. This will ensure the appliance can operate efficiently, even if the ambient temperature reaches 30- 40°C.
Energy savings with commercial refrigerators
The latest commercial refrigerators and freezers maximise efficient operation thanks to a host of innovative technology.
For example, the Electrolux Professional ecostore Premium range features the Optiflow intelligent air circulation system. This ensures the interior temperature remains consistent, no matter how many times the door is opened or closed.
However, there are a variety of other factors which can impact the efficiency of commercial refrigeration, including the refrigerant gas, the choice of insulation materials and the thickness. Indeed, Electrolux Professional models use the natural R290 refrigerant gas which is both more sustainable than hydrofluorocarbon (HFC) refrigerants, and less corrosive of the compressor and other core internal parts.
Energy saving tips for a commercial refrigerator
The easiest way to keep energy consumption down is to invest in the most efficient model you can afford. However, there are a few tips and tricks that operators can do to maximise the efficiency of any appliance:
First and foremost, operators should never exceed the storage capacity listed on the energy label. Doing so can limit the airflow around the contents and potentially cause it to spoil earlier. While not strictly linked to utility consumption, food waste is still an expense that should be avoided at all costs. Thanks to its innovative design, the Electrolux Professional ecostoreHP Premium counters range, for example, benefits from an increased 20% capacity compared to other units with a similar footprint.
Secondly, the condenser coil should be cleaned at least every three months to prevent the build-up of dust or debris. Doing so will also stop the appliance from overheating and help it to run as efficiently as possible. Alternatively, operators could opt for models with wire frame condensers, such as the ecostoreHP Premium series, as they have lower maintenance demands.
Finally, all door seals should be frequently removed, cleaned, and checked for leaks. Failing to do so may inadvertently increase power consumption as the unit will have to work even harder to maintain temperature. However, seals are straightforward to replace and keeping on top of regular maintenance will keep any issues at bay. Electrolux Professional models feature a triple chamber magnetic gasket which can easily be removed and cleaned without impacting the insulation properties of the appliance
Conclusion
While commercial refrigeration may be among the most energy-intensive items in a professional kitchen, there are many ways operators can make savings. From specifying high-efficiency models to engraining regular cleaning and maintenance best practice, refrigeration no longer needs to be a major drain on energy bills.
Save more with Electrolux Professional
---
BECOME A WORLDCHEFS PARTNER
Partner with Worldchefs to get connected with our international membership of professional associations, hospitality schools, and companies around the globe.
Learn more about our partnership opportunities here.