In this episode, Ragnar talks with Janice Wong. She's been named Asia's Best Pastry Chef twice by the prestigious San Pellegrino Asia's 50 Best for 2013 & 2014, won the title of Pastry Chef of the Year from the World Gourmet Summit Awards in 2011, 2013 and 2015, and the title of Young Woman of the Year from Her World in 2012.
Janice's never-ending passion for culinary art has propelled her forward to test the limits of dessert making. The native Singaporean has learned from some of the world's best chefs, including US luminaries Thomas Keller and Grant Achatz, virtuoso Spanish chocolatier Oriol Balaguer, and prodigious French pastry chef Pierre Hermé. Just last week she joined the TOP Chef Finale judges table.
An undisputed favorite among sweet-toothed Singaporeans, her dessert restaurant 2am:dessertbar has recently celebrated their twelfth year anniversary, redefining the dessert experience and pushing the boundaries between sweet and savoury with carefully researched progressive dishes.
Chef Janice has received worldwide recognition for her cutting-edge creations, incorporating the five senses experience in everything she creates. While running brick-and-mortar presence in Singapore, London, Japan, and South Korea, she's also a regular on the global pop-up circuit. From a sweets shop where customers can observe a live dessert station with the world's biggest chocolate fountain, to a solo exhibition in Huis Ten Bosch Nagasaki featuring her signature edible art works, she's taken food art to new heights around the globe.
"In 2011, I started painting with chocolate on big canvases, putting my desserts on walls and the ceilings like marshmallows. We came up with chocolate paint and edible crayons… It's never ending for me and there's a wide, happy, joyful, colorful world of pastry."
Reconciling the changing reality amid COVID-19, she's pivoting her businesses and rethinking product offerings to meet new consumer demands. From DIY kits, premixes and decorate-your-own cakes, to Instagram video tutorials, she's delivering the joy and fun of pastry to her customers in new, engaging ways. "There's nothing boring about pastry and we definitely want to bring that experience to your doorstep," says Janice.
This time has been a challenge of inspiration, having so often been on the road pre-pandemic and kindled by different cultures, people, and practices abroad. She was "creating on the go." Now, the inspiration comes from creation itself, and from the satisfaction of bringing the 5 senses experience to homes in lockdown.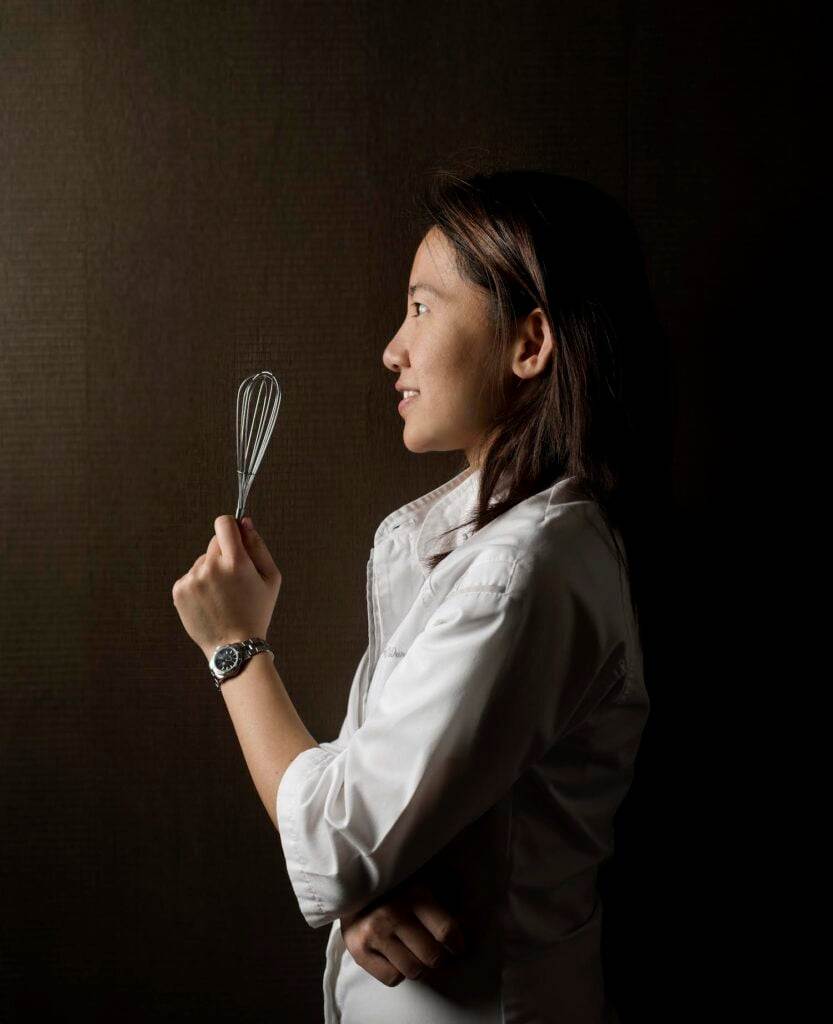 For Janice, focus, discipline, and resilience have always been the keys to success. Now more than ever, she seeing those qualities reflected in the culinary community. "You can really see the ones that are there to stay. They would go all out and think of so many ways to survive. I'm just amazed at some of the ideas that people come up with in order to stay afloat all across the world and it's very touching and moving as well."
Janice started her career with a backpack, a city, and a spirit of learning. She arrived in New York City and started to knock on doors, asking for internships: "Hey, I'm here to learn and to grow." Her focus and discipline didn't go unnoticed. "The community of chefs is always very, very open. It's a tight community. So once they see a really good, enthusiastic spirit, [you] get recommended to another person, and then another."
Her advice for young chefs, senior chefs, and anyone in between: stay inspired and stay connected. Despite the circumstances, now is the time to engage with people. "You can really reach out to so many people now in the pandemic. It feels like everyone's kind of reachable and online all of a sudden, which is really strange in a way. And you can see chefs just putting the camera right in front of your face and not being afraid to talk." Keep knocking on digital doors, and you'll find a lot are open.
Resources
To take Janice's advice, you can connect with chefs and hospitality professionals around the world. Create your free Worldchefs online account at www.worldchefs.org/login. You'll find over 500k members, 35k jobs, 6k world-class employers, industry insights, courses, and more! Share your story, stay inspired, and build your network with a free profile now.
Want to cook along with Janice? Check out her recipe video with us here.
Check out all her video tutorials and follow Janice through her colorful world of pastry on Instagram at @janicewong2am.
To see more of her magical creations, visit her website.
Don't forget to subscribe to our podcast! You could win a free gift from Worldchefs office in Paris.
Acknowledgements
World on a Plate is supported by Nestlé Professional.
---