In this episode, Ragnar talks with Majed Al Sabagh, President of the Syrian Culinary Guild and Founder of Chef International Center (CIC). With a career many chefs dreams about, learn how Majed managed to start his own business, build a culinary association, and achieve the highest level of certification, Master Chef.
Born in Syria, Majed Al Sabagh grew up in a mountainous area, full of farms and fresh fruits. It was here in his home country where he began his education in hotel management. After completing his first internship at a five-star hotel in Damascus, he moved to Dubai where he put down his roots as his career began to blossom.
After making his mark across various five-star hotels, Majed decided to study business, which gave him the tools to eventually open the Chef International Hospitality Education and Training Centre, the first center of its kind in the UAE. He currently serves as acting Director at the CIC and is guided by their vision of playing "an active role in the community through the provision of curricula and training, which contribute to develop the knowledge and skills in hospitality."
CIC's mission is to "work to find the environment and right place to provide appropriate services for those interested in the areas of hospitality and hopefuls to work in one of them."
Majed has also made a name for himself onscreen. In 2006, he got his own show on Sharjah TV, which is still running today. He is also the author of four books, such as "Culinary Art and Kitchen Management." Unfortunately, his work is only available in Arabic and not for sale online.
برنامج صباح الشارقة – المطبخ الهندي مع الشيف ماجد الصباغ
After much success, he still stresses the importance of giving back to the community. He says, "every day, you have to learn, you have to continue and you have to keep yourself up-to-date. But in some stages you have to give. It's not only about when you have a kind of experience, a kind of knowledge; it's at that time to start to give to others."
At Worldchefs Congress & Expo 2012 in South Korea, Majed recalls recognizing chefs from around the world. However, he felt there was a lack of representation from the Arabic countries. He asked himself and his fellow Arabic chef colleagues, "Why don't we take our activities and our work to the next level? Why don't we register? Why don't we go in the right way and put our country and ourselves in the right place? Because it deserved to be there and it's our problem that we did not do that for our country, where the food is very important, nice and unique."
It was this feeling that inspired Majed and his colleagues to establish the Syrian Culinary Guild. He saw the 2016 Worldchefs Congress & Expo in Greece as the perfect opportunity to get representation for Syria by bringing the Guild under Worldchefs' wing. All he needed was a favorable vote. Of course, the vote was held and the Syrian Culinary Guild received overwhelming support.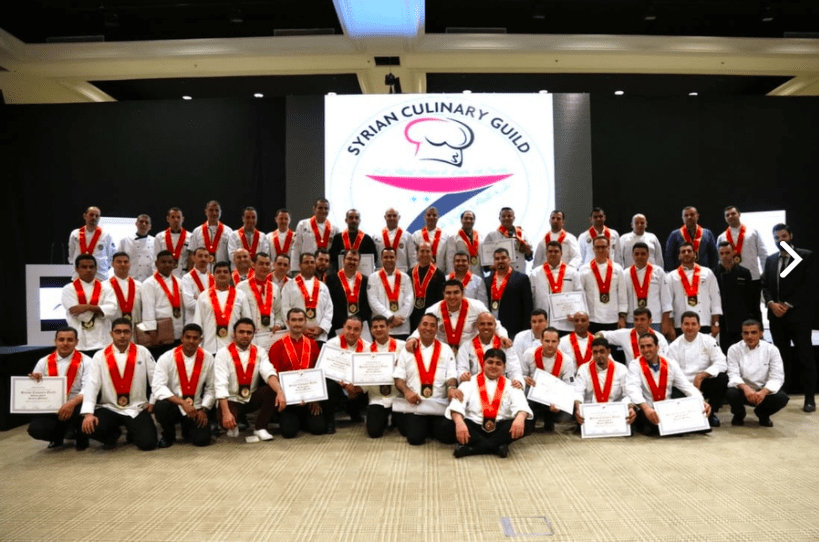 The Guild's mission: "Making both the Syrian Cousin and the Syrian Chef globally well known in a professional way."
Due to the unfortunate circumstances and conflict going on in Syria at the time, the decision to include the Guild was especially emotional. Recalling the moment, Majed says, "we feel that we have to do something for our teachers, for our friends and colleagues, and back in our countries we have to show them we are here supporting you and we still love our country and want to do something for it." And with the help of supportive chefs from around the world, they did just that.
Today, Majed serves as the President to the Syrian Culinary Guild, which has approximately 350 members. His mission is to educate, certify, and give back to chefs. He says, "Everybody can cook. Everybody loves to cook, but we need certified chefs. I love the classic kitchen, but we cannot cook just classic dishes. Now we have to use the basics, but we have to present it in a new or modern way."
As not only a Worldchefs Certified Judge, but also a Certified Master Chef, Chef Majed knows a thing or two about certification. In order to stand out from the competition and ensure your experience meets the industry standards, it's important to get certified. Majed explains, "It's not about the certificates. It's about what you did to get it." You have to earn it.
Chef Majed accepts the Presidential Medal from Worldchefs President, Thomas A. Gugler the Worldchefs Congress & Exposition 2018
Part of Chef Majed's mission and idea is to break from traditions. He says, "Of course, I love the basics. I love the classic kitchen. I am a person who is very strict to the taste. And for me, food is the main thing. Then of course, you have to add other things to the taste." While respecting ingredients and keeping taste at the center of your dish is absolutely key, it's important to be open-minded and invoke new and creative ideas into recipes, even the traditional ones.
"When you're talking about chefs, it's completely something different," he says. "You have to have a touch of art, a good eye, you know how to take photos for your dish, you know how to present it."
Chef Majed certainly has a touch of art, and much more, in cooking, business, and perhaps above all – leadership.
Resources
Keep up with Chef Majed Al Sabagh on social at:
Learn more about the Chef International Center and the Syrian Culinary Guild.
---
To learn more about how Global Hospitality Certification can benefit your organization, school, or career, visit www.worldchefs.org/global-hospitality-certification.
To explore the digital badges you can earn, click here or on the badge to the left. Then you can take the first step towards showcasing what you can do.
In case you missed it on 30 September, you can watch Worldchefs first Certification 101 Webinar below:
Acknowledgements
Special thanks to Majed Al Sabagh for joining us as a guest.
World on a Plate is supported by Nestlé Professional, making more possible.