In this episode, Ragnar talks with John Clancy, Education Director for Worldchefs and one of the key architects of Global Hospitality Certification. John has helped to build a global benchmark for hospitality professionals and is the expert on culinary skills recognition. He wants to see chefs everywhere get recognized for their experience like never before.
John's story starts in 1968 when he got his very first gig at the mere age of 15. He spent the first two years of his career at the Four Courts Hotel in Dublin when he started his training as a commis chef. He then continued his training in the French classical cuisine style of cookery. Afterwards, John went on to work in several top restaurants and hotels including the Russell Hotel, the first in Ireland to be awarded a Michelin Star.
John found himself employed at the Jury's Hotel in Dublin, where he dedicated 20 years, rising through the ranks until he became Executive Pastry Chef. He worked tirelessly in a huge but organized kitchen, accompanied by 55 other chefs and 35 commis chefs, in total there were about 100 staff members. Together, they managed to push out 1000 to 1500 covers a day.
At 27 years old and with more than a decade of experience under his belt, John decided to go back to school as a mature student. In four years, he completed two Master programs in both Pastry Work and Classical Cuisine while also teaching part-time and running the pastry section of one of the busiest hotels in town.
"So you can imagine," he says. "I'm studying, I'm a father, I'm a husband, I'm all these things, and [I have] all that other stuff going on all at the same time. It's amazing how you can fit all of this into your life."
As his successful career continued to move forward, John took on more and more part-time teaching jobs. His passion for teaching grew, his part-time jobs turned permanent, and at the age of 33 he became a full-time educator, something he never imagined.
John's relationship with and involvement in Worldchefs blossomed, too, as he became active member and eventually President of the Panel of Chefs of Ireland. During his three years as President, Ireland led the bid to host the World Congress in Dublin. As the Congress Director, he welcomed about 1100 delegates and introduced the World Junior Culinary Championship for the first time, which later went on to be named the Hans Buchkins junior competition.
John accompanied by former Worldchefs President Charles Carroll and Chef Stafford DeCambra at Worldchefs Congress 2016.
In 2006, John started the conversation on what he saw as the need for recognition of chefs' skills. At the time, the only way chefs could get recognized was through competitions. "If they did competitions, they'd get a medal or they'd get a certificate or something, but there was no form of recognition for their experience or for their education." Driven to make a change, he sat down with quality assurance partner City & Guilds to create what is now known as Global Hospitality Certification.
"We were trying to identify and give people an opportunity to have their skills recognized, but not only that, but also for us as well, to be able to create a standard." The goal of certification was, and is, to give chefs the opportunity to show off their professional skills and to progress towards a better job and greater opportunities.
So what is Global Hospitality Certification today? Created in partnership with Worldchefs and international employers, Global Hospitality Certification is the first and only professional skills framework in the world. It has been co-designed with industry professionals to recognize the skills and experience of those working in hospitality.
Global Hospitality Certification sets a global benchmark for job roles across hospitality, in all areas across culinary, food and beverage, front of house, and housekeeping. There are nine levels of culinary certification. Every single role is defined and thought about, from hard skills on the job to soft skills, outlining the characteristics that make the difference in an exemplary candidate.
John and the team at City & Guilds worked closely with employers to build out the criteria for each unique role. Essentially, employers said, "These are the set of skills we need for people to come in and work with us." Employers' needs were identified and considered to ensure that individuals who qualified for Certification have the necessary skills to land a job within his or her skill set.
Certification also supports employers to match their talent to a new standard. The result is a positive effect on all the employees, with recognition of their skills in the form of a digital credential. With this digital badge, they're able to show off their skills on social media, professional networking sites like LinkedIn, through email and of course on their CV.
An immensely powerful tool, digital credentials allow individuals to market their skills. "The digital badge contains all of your information, contains all of the skills that you have," says John. "You can now advertise to prospective employers and say, look here I am…it's the best version of an electronic CV that we can think of." Whereas a paper certificate ends up gathering dust, a digital badge makes skills visible and global. It can literally jump off the page – a single click and the credential can be verified.
In the words of Chef John, "I've often said before, in fact, many times has it been said that cooking is universal." And so is Global Hospitality Certification. It does not matter if you're a chef in India or Ireland, or whether you're employed, underemployed, or searching for a new opportunity. Anyone can apply to certify his or her skills independently. Candidates submit evidence to demonstrate that they have skills to match a certification level, and once reviewed can achieve a digital badge.
With the goal of continuing to help people get skills recognized, John wants to make sure that chefs have a clear understanding of the certification program. To help achieve this, he is now hosting a series of Worldchefs Certification Webinars, built to guide potential candidates through the application process.
The first introductory installment of the series took place on September 30th, and John will go into further details in upcoming webinars. "We're going to go through, we're actually going to take them through the application process and answer any questions that they have," he says.
In case you missed it on 30 September, you can watch Worldchefs first Certification 101 Webinar above
The next Certification Webinar series will focus on the Certified Executive Chef digital badge, where participants can expect to be guided through the requirements and criteria for this level as well as introduced to the online application platform Learning Assistant and toured through the steps to uploading their evidence.
Join John and the Worldchefs team to learn how to showcase your culinary skills and professional expertise to current and future employers, through the use of social media platforms.

See you on October 14th at 4:00PM Paris time. Reserve your place by registering!
Resources
Join our next Webinar: Become a Certified Executive Chef:
---
To learn more about how Global Hospitality Certification can benefit your organization, school, or career, visit www.worldchefs.org/global-hospitality-certification.
To explore the digital badges you can earn, click here or on the badge to the left. Then you can take the first step towards showcasing what you can do.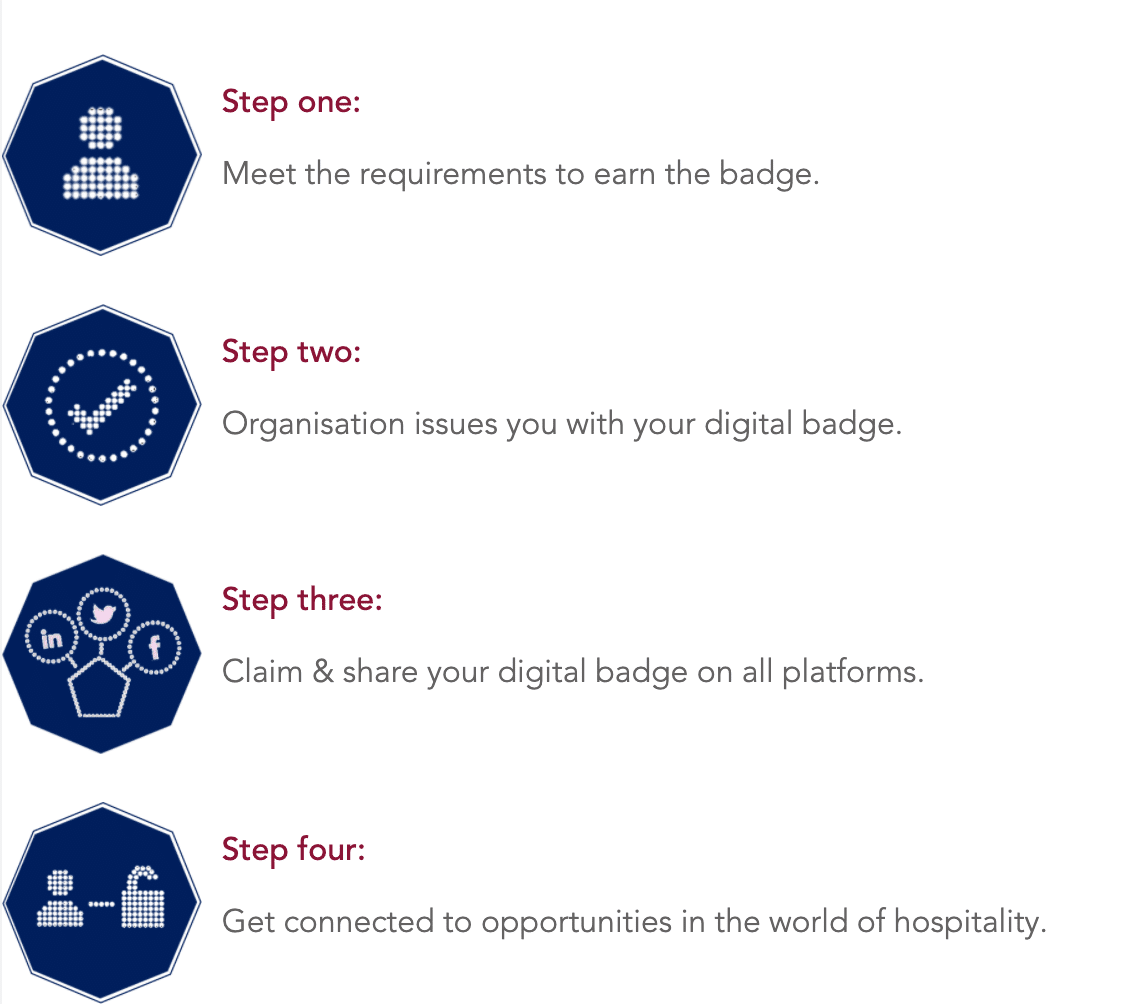 To read a feature on Global Hospitality Certification, check out the latest issue of Worldchefs Magazine.

Acknowledgements
Special thanks to John Clancy for joining us.
World on a Plate is supported by Nestlé Professional, making more possible.