In this episode, Ragnar talks with chef and food scientist Justin Kanthak. Head of Snack for Griffith Foods and President of the professional trade organization, the Research Chefs Association (RCA), Justin is a true Culinologist.
Like many in our industry, Kanthak always wanted to be a chef. When he received his first cookbook at age 8, his fate was sealed. He has spent over twenty-five years growing, engaging and leading within the food industry, rising in the ranks at fine dining establishments around the US before becoming a prominent figure in the food product development world.
Justin studied at the Culinary Institute of America (CIA) in Hyde Park, New York, earning his Associates in Culinary Arts. While at the CIA, he started to explore how he could approach the food industry differently.
Enter food science. He followed up his culinary education with a B.S in Food Science Technology and a Minor in Microbiology from Iowa State University. He's currently pursuing a master's in business administration from Northern Illinois University. Impressive, right?
Justin credits finding his niche to a combination of good timing and good advice. "I really loved what I did, and had the opportunity to add that science component to my education," says Justin. "From there, I went to the product development space. It was circumstantial and intentional at the same time."
Certified Research Chef, Certified Culinary Scientist, corporate chef, product development lead for the US school lunch program, adjunct instructor in Culinology® and Hospitality Management at Southwest Minnesota State, manager of Global Culinary Developments specializing in new ingredient technologies, "hired creator" – his resume is unexpected and, for those of the right generation in the US, reads something like if Bill Nye joined Top Chef.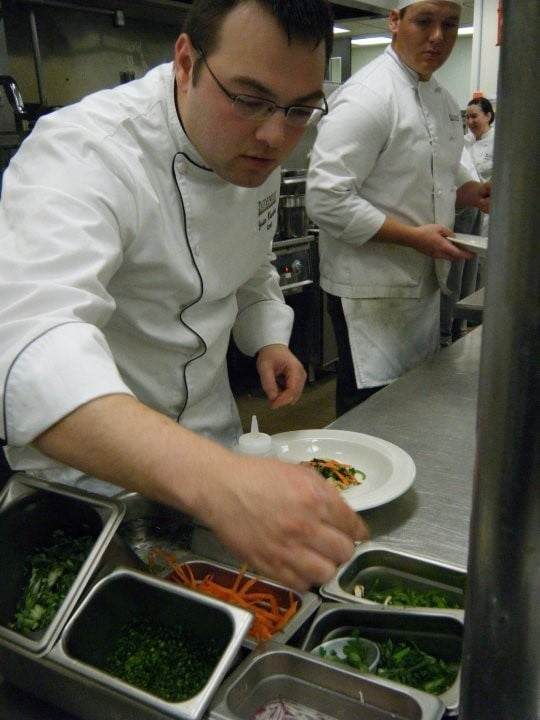 "Cooking is fundamentally science."
Justin joined the Research Chefs Association as a professional member in 2007. He'd been a part of the 25-year-old professional trade organization as a student, and now is serving his second term as RCA President.
Justin explains that the RCA emerged from a gap in the industry. "The idea of a research chef in the grand scheme of the industry in the world is relatively new," he says. "It emerged from this idea that food companies, food manufacturing companies, and restaurant chains wanted to embrace culinary as a centric piece to how they created food for their customers." The RCA saw this, and decided to take action with an aim of bringing together culinary arts and technology in a way that hadn't really been confronted before.
"You have chefs who spent their whole career in a big chemistry set, but you never took the time to really think about it from that mindset because it was so focused on the idea of creation. Every minute detail from making sure you had the proper seasoning in your food, to how you plated it to make the plates were hot, to listening to the orders coming into the window and when to cook things to make sure that they came up just in time. That was all manipulating science. Understanding how cooking times happen and understanding how reactions happen in time; it was all science."
This is where Culinology® comes in. First off, let's start with a definition. Culinology®, a registered trademark of RCA, blends culinary arts and the science of food, and at its core, fosters a union between food service professionals and food science professionals.
The RCA and its members are pioneers at the frontier of a fast-growing discipline, sitting between the chefs of professional kitchens, putting out hundreds of covers a night, and the food scientists who develop products to increase innovation, quality and speed-to-market. They use Culinology® to elevate product development through community. That's pretty fantastic, isn't it?
"You think back 30 years ago, the idea of chefs and their channel, and food scientists and their channel – it really didn't merge all that off often," notes Justin. "One of the people who was kind of the first culinary scientist or researcher out there was Ferdinand Metz."
Pictured, center: former Worldchefs President, Ferdinand Metz.
"Everybody knows that name; a man who needs no introduction. He spent many years working in the food product development space and little did I know when I was at the CIA – he was the President at the time – that he happened to be one of the first identifiable, culinary research chefs out there."
Kanthak references another culinary great in this evolution story. Revisiting cooking technology in the days of Escoffier, to cast iron and wood-fire, he imagines "bringing Escoffier today, and giving him an induction burner and a combi thermal oven. And saying, all right, what can you do with this?" With the advent of these new technologies that would be "mind-blowing" to cooks from just 100 years ago, today's experience provides these vast and often overlooked applications of science in the kitchen; applications that bring consistency to a global scale. "It purely spawned from the idea that cooking and science are one in the same and they've never been different. So why don't we truly embrace it?"
Justin works with Griffith Foods, where his passion and talent are more than appreciated, they're applied. He's helping to support their purpose driven strategy across many roles, including new business development, chain account restaurants, leading the Snack sales team as well as leading their new business development segment in health & nutrition.
"At Griffith, we use culinary arts to accentuate our product developments and at times to be leading the product development piece with our customers," says Justin. "We really want to take this idea of food and elevate it through culinary perspective, understanding creativity and how to develop complexity and flavor profiles."
The innovations coming of out the experimental kitchens at Griffith Foods and those of RCA members at large are creating an effect with industry-wide, food-chain-wide implications. To put it simply, they're helping to make better food, better costs, better chances to feed the masses.
"We can spend all day talking about the economics of it, but the important piece of this is: the better we choose to do, the better we require of ourselves, the more it becomes fair for everyone. And that's really the center of the idea of ever-evolving food. And even in the mind of a Culinologist, what we aspire to do is to bring better food to the masses faster and evolve that technology to support it."
There's more than science in the RCA. There's honor, too.
Resources
"This is a place you should start because it's going to open your mind to why food is what it is." Justin told a new colleague this just last week in reference to Hervé This, the father of molecular gastronomy. You can hear our episode with Hervé here.
Interested in the subject? Justin also recommends reading On Food and Cooking by Harold McGee.
Hungry to hear even more on the intersections of science and food? Check out our related podcast episode on The Art of Umami with Chris Koetke.
Justin has also served as a member of the James Beard Foundation's Food Waste Advisory Board. If you'd like to learn more about how you can reduce your food waste and other opportunities to help feed the planet, visit www.howtofeedtheplanet.com.  
About the Research Chef Association
Founded in 1996 by a group of research chefs dedicated to overcoming challenges facing the food product development professional, the Research Chefs Association (RCA) has grown to more than 2,000 members. Today, RCA is the premier source of culinary and technical information for the food industry, with a professionally diverse membership including chefs, food scientists and other industry professionals who are shaping the future of food research and development.
RCA is a forward-thinking, vibrant, energized organization whose members benefit by being part of a dynamic community of food professionals who work toward a common goal: the blending culinary arts and food science.
To learn more about the RCA, visit www.culinology.org.
About Griffith Foods
At Griffith Foods, our purpose defines who we are, what we do, and why we exist, highlighting what makes us distinct and authentic in the marketplace. We help our partners meet the evolving needs and desires of consumers in ways that respect and sustain the planet. Our care and creativity mean we'll find the right mix of global reach and local impact to serve the earth and nourish all of us who call it home.
We create customized product solutions built on care and creativity. Our biggest passion is helping you achieve your goals, and we'll partner with you from ideation to production to achieve them.

We are dedicated to helping our customers develop new ideas, technologies and solutions, enabling them to stay ahead of ever-evolving needs of the marketplace and consumers. Our collaborative process integrates in-depth industry and market insight, culinary artistry, and technical expertise to solve business challenges.
To learn more about Griffith Foods, visit griffithfoods.com.
Acknowledgements
Special thanks to Justin Kanthak for joining us as a guest.
World on a Plate is supported by Nestlé Professional, making more possible.