In this episode, Ragnar talks with Thomas A. Gugler, President of Worldchefs and renowned masterchef with accolades nearly too long to list. He's received 750 diplomas, awards & honors internationally, and his resume runs the gambit from gourmet restaurants and five-star hotels to hospitals, airlines, catering and coaching.
Born 1967 in Bavaria, Germany, his future was set at the tender age of two. "Since I remember, nearly before I could talk, I always wanted to become a chef," says Gugler. Whereas other children may ask for a firefighter costume, Thomas had visions of a white chef's jacket. He fell in love with the kitchen whilst watching his mother and grandmother, both talented home cooks. His great-grandmother worked for the last Austro-Hungarian emperor, perhaps a fated family to cook for royalty.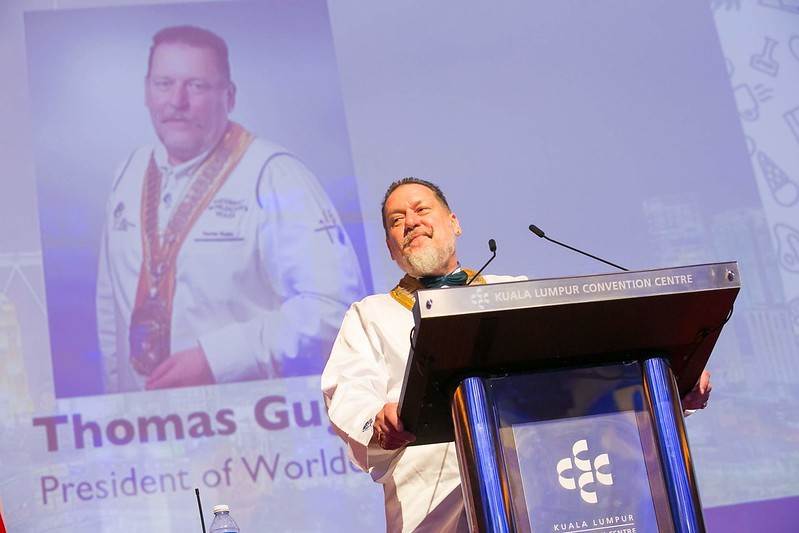 On his grandmother in the kitchen: "She roasted everything… Sometimes when I wake up, I smell exactly the kind of dishes which she was cooking."
For Thomas, his matriarchs gave him not only an appreciation for heritage cuisine, but also an early awareness of culinary basics. "If you know how to make a good sauce, a good stock, a good soup and good elementary food, build on that and you will be always successful," he says.
Creativity can't thrive without this strong foundation. Luckily Thomas had the opportunity to solidify both during an early apprenticeship with famous German chef Hans Immerz. An eccentric, Immerz was as genius as he was tough. For a small mistake, he would have "eaten you raw," says Thomas.
Yet his perfectionism and hard attitude provided Gugler the fundamentals to become an ambitious professional chef. And while the age of domineering, harsh leadership and paying for apprenticeships may have come to a close, it left its mark on a generation of chefs.
Thomas' advice for the next generation of culinary talent: "Always learn everyday because every individual minute and second of your life, you are able to learn. Take this opportunity, be like a sponge, eat it up, develop yourself, follow the principles of cooking. And become or stay a genius as you will be, or as you are."
Immerz had given Gugler another lifelong gift: culinary competitions. Immerz sent his staff to competitions all over Europe. "In my early apprenticeship, I did maybe 60, 70 competitions all around Germany first, and then Europe," he recalls. His first gold medal was 1985 Culinary World Cup in Luxembourg. Years later, Thomas served as coach for the German National Youth team, and brought many more international teams to the highest place at the podium.
Thomas' opening address at IKA/Culinary Olympics 2020.
Even before Gugler became a full-fledged professional chef with a penchant for languages and a fully stamped passport, he was already on the path towards discovering Worldchefs. His introduction came from brothers and renowned chefs Reinhold and Ferdinand Metz. Reinhold Metz, later the President of the German Chef Association, was one of Thomas' culinary instructors. Ferdinand Metz, then star of ACF's USA Culinary Team and future President of Worldchefs himself, trained at Gugler's school in the early 80s.
The impression that he was predestined for the job is further reflected in his own international focus and keen interest in understanding diverse cultures. He speaks 9 languages fluently. He has worked in Germany, Austria, Greece, Turkey, Spain, Canary Islands, Tunisia, Sweden, Thailand, Senegal, Indonesia, Malta, and Saudi Arabia. In 2002, he joined Saudi Arabian Airlines as Executive Masterchef, with 120 different nationalities working together.
"It's a must to travel the world, to go around and see and experiment. Take the time when you are young to develop yourself," says Thomas.
Cooking has taken Thomas across the globe. It's also put him at the mouths of royalty, from heads of state to the King of Pop. From Frank Sinatra and Madonna to Angela Merkel and Muammar Gadhafi, he's satisfied the palates of power from celebrity status to high office.
"I'm very proud to be a chef because I believe that's the best, the most interesting job in the world," says Gugler. "You can be very, very creative, like an artist."
Beyond the line, he has also been an educator, lecturer, trainer and manager. But he never strays far from the kitchen. "If you are a chef," says Gugler, "you always go back to the kitchen because you need the smell, the ambiance, and this kind of adrenaline while you are in service time; it's amazing. And I don't want to miss that."
In his first term as Worldchefs President, much has been achieved. And within the first few months of 2020, amid the global pandemic caused by COVID-19, he's been proud of what the organization has done for the culinary community. "The future is still very, very bright," says Gugler. "With the support of the Presidents from all around the world, as you are all part of this novel, a family of Worldchefs, I believe there are many new things to come."
A humanitarian at heart, Thomas continues to use his platform to bring people together. Reflecting on what brought us to this point, Thomas has words of wisdom: "COVID taught us a different lesson. Be attentive, be more careful, because COVID never made a difference between color, race, belief or gender," he shares. "If we all will respect that, sooner or later we can make the world a better place."
Resources
Inspired? Looking to start your journey towards becoming a professional chef, or want to return to the basics to build that strong foundation? You can get started with our free Pre-Commis Chef training program, Worldchefs Academy. Free to all, everywhere. Visit www.worldchefsacademy.com to take the first steps towards a new career in culinary arts.
Want to continue honing your skills? This summer we've teamed up with The French Chef Handbook – the most complete book of key technical tips in the kitchen with more than 500 step-by-step techniques, 3000 photos, 118 videos, and 1000 recipes worksheets. Worldchefs Summer Camp with the French Chef Handbook is available for FREE until August 31, 2020. Get access here.
Interested in joining the ranks of Worldchefs' Certified Judges? Learn more here.
To read more from Thomas on equality and inclusion, read his recent address here.
Acknowledgements
Special thanks to President Gugler for joining us.
World on a Plate is supported by Nestlé Professional, making more possible.