PROJECT NAME: CHEFHUG PROJECT THAILAND
DATE: 11 MAY – 20 MAY 2020
ORGANIZED BY: THAILAND CHEFS ASSOCIATION AND THAILAND CULINARY ACADEMY
ENDORSED BY: WORLD CHEFS WITHOUT BORDERS
CHEFHUG hired packing team who lost their jobs or income to pack 4000 rice boxes per day / 800 boxes per hour / for total of 5 rounds.
PARIS: May 12, 2020
With months of lockdown in Thailand due to the global pandemic caused by COVID-19, many people suffered loss of income and some do not even have enough money to purchase milk powder or even a meal during the lockdown. The food service industry has been severely affected, causing many cooks and chefs to lose their jobs, which for many of them is the main life support for their family.
To be able to recover quickly and assist those fellow colleagues seeking short term income and serve short term hot meals to those affected during or after the lockdown, the Thailand Chefs Association and Thailand Culinary Academy have organized a Chef Social Responsibility (CSR) Project called CHEFHUG under the endorsement of World Chefs without Borders (WCWB).
CHEFHUG is a cook off event being held from 11 May 2020 to 20 May 2020, when 40,000 meals will be prepared in the period of 10 days and delivered to 50 districts in Bangkok. Each day 4,000 portions of Rice box will be delivered to 5 districts/communities. The goal of CHEFHUG is to provide hot meals and create short term income for people that were affected causing low or no income due to the COVID-19 lockdown. By hiring the cooks, packing team, distribution team, and taxi drivers, temporary income is created and will support the small wet market seller and small foodservice suppliers. Each day 20 cooks, 20 packing staff, 20 taxi driver and 20 distribution staff will be hired by CHEFHUG to perform the entire operation with the supervision from both organizations.
Proper social distance guidelines will be enforced during the 10-day CHEFHUG cookoff operation from cooking, packing, deliver and distribution team. Although free hot meals will be distributed, the fundamental rule as cooks or chefs will not be ignored, food safety. All serving meal boxes will be recyclable and proper managing of ingredients and zero waste will be maintained.
To kick start this meaningful event, Thailand Chefs Association and Thailand Culinary Academy have contributed 200,000-baht or 6300 Euros each and together with the support from some passionate companies and individuals, the entire cost of the project is estimated at 1,600,000 baht or 50,000 Euros. The funds contributed from both organizations are funds previously reserved for an international culinary competition. They both strongly believe that with the current COVID-19 global pandemic, many livelihoods have suffered, and helping their fellow colleagues and communities to recover and survive is their 1st priority rather than enhancing their culinary skills.
Although the entire CHEFHUG project is only scheduled for 10 days, should additional donations be provided, cook off operations will be extended based on the amount received.
WCWB Chairman Willment Leong stated, "On behalf of WCWB, I would like to thank you for recognizing CHEFHUG and the WCWB CSR efforts in Thailand. We are willing to share our entire operation manual to those National Chef Associations that are willing to perform the same concept as CHEFHUG".
He further stated, "Sincerely on behalf of World Chefs without Borders, I would like to encourage your Chef Association to create some kind of COVID-19 recovery relief effort to assist those that are wearing the same chefs jacket like us and/or at the same time prepare and serve meals to those that are in need, or plan any activity to aid in COVID-19 relief recovery. Let us all share: #wcwbcovid19recovery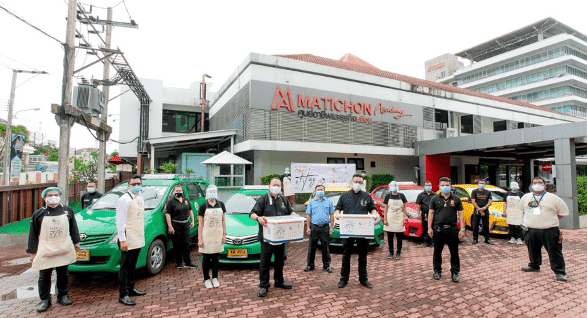 FIND YOUR INSPIRATION THROUGH SHARING DURING THIS DIFFICULT TIME
Contact: CHEF WILLMENT LEONG, WCWB Chairman [email protected]
ChefHug Thailand Project, Overall operation team leader
Thailand Culinary Academy, Chairman
Thailand Chefs Association, Vice President
For more information please visit – https://www.worldchefswithoutborders.org/