Slash energy bills and make a positive contribution to saving the environment with cutting-edge energy efficient commercial kitchen equipment.
Rising oil and gas prices have added to the stress of running a commercial kitchen and with companies looking to do their part to tackle climate change, making our kitchens more energy efficient brings business benefits and helps our planet.
You and your team can take some simple steps straight away to start saving on your energy bills. It starts with explaining key changes that can be made to your team and making sure they're on board with your energy-saving plan. When it comes to replacing your commercial kitchen equipment, you can make significant savings by investing in new, energy-efficient options, ensuring they pay for themselves in a surprisingly short timeframe.
Easy energy-saving tips for commercial kitchens
There are some simple changes you can implement right away to become more energy efficient. For example, wear and tear on refrigerator and freezer doors is a common and costly problem that's often ignored. If the doors don't close properly, the cooling equipment has to work much harder to keep the contents cold. Replace worn-out door seals and keep them clean.
Try to ensure natural ventilation as much as possible as when the ambient temperature in your commercial kitchen rises, refrigerators and freezers have to work harder to keep your food chilled. One way is to create areas in your kitchen, one for fridges and another for cookers.
Look at investing in water-saving devices and taps to reduce excess use and take steps such as ensuring that dishwashers are fully loaded before use. By replacing all lighting with LEDs, you won't just reduce energy consumption, you'll also reduce the ambient temperature.
Why upgrading your appliances matters 
Upgrading professional kitchen equipment is a key component of any energy efficiency strategy. Following the initial outlay, you'll enjoy long-term energy savings and can ensure you also hit your sustainability targets as a company.
Professional kitchen fridges are switched on 24 hours a day, 365 a year to preserve food and keep it fresh, taking up a huge chunk of energy consumption in the kitchen. On top of that, US and EU regulations are becoming increasingly stringent.
Investing in energy efficient commercial kitchen equipment can save your kitchen thousands of dollars in operational costs and play a role in tackling climate change.
Evolving your kitchen appliances
At Electrolux Professional, they believe in social responsibility and the need to be transparent regarding energy consumption and Electrolux Professional's equipment's impact on the environment. All their products are designed and built for the future, with the next generations in mind and are labeled to indicate compliance with energy regulations.
Electrolux Professional always seeks to improve energy efficiency in kitchen appliances, even before regulations came into place. Their R290 high-efficiency HD refrigeration cabinets were already in production in 2011, before energy labels were introduced in 2016. 
A fresh approach to refrigeration
ecostore refrigerators, available in class A, are designed for heavy duty working conditions, guaranteeing more capacity and best in class in energy efficiency. The electricity bill can be cut by 80%* with ecostore refrigerators in class A.
While upgrading your kitchen appliances to more energy-efficient models saves you money in the long run. For example, by switching from a class G to a class B refrigerator, you can save a whopping 78%* of energy costs. And if you switch your freezer from a class G to a class C, you'll save 70%* on average.
New refrigeration appliances also help reduce food waste while saving energy by keeping power consumption at a minimum even in the hottest of kitchens. Their devices all use airflow to ensure that temperature and humidity are evenly distributed. 
Designed with the planet in mind, Electrolux Professional ecostore refrigerators use natural gasses such as cyclopentane in the insulation and hydrocarbons, such as R290, which has a very low global warming potential. Hydrocarbons have a less aggressive effect on the refrigerator's components, meaning that they are less prone to wear and tear and therefore last longer.
Their insulation system also helps limit energy consumption with a greener and more cost-effective solution. They use 90mm thick stainless steel and cyclopentane gas to keep consistent internal temperatures, cutting energy consumption and compressor activity.
An efficient approach to every appliance
While professional kitchen fridges may be the worst offender efficiency-wise in a kitchen, the cumulative effect of all appliances can send energy bills soaring. Electrolux Professional has worked to ensure all commercial kitchen equipment they develop is as efficient as possible, to help businesses and the planet. 
If you're looking to upgrade your equipment, consider some of these options for your commercial kitchen.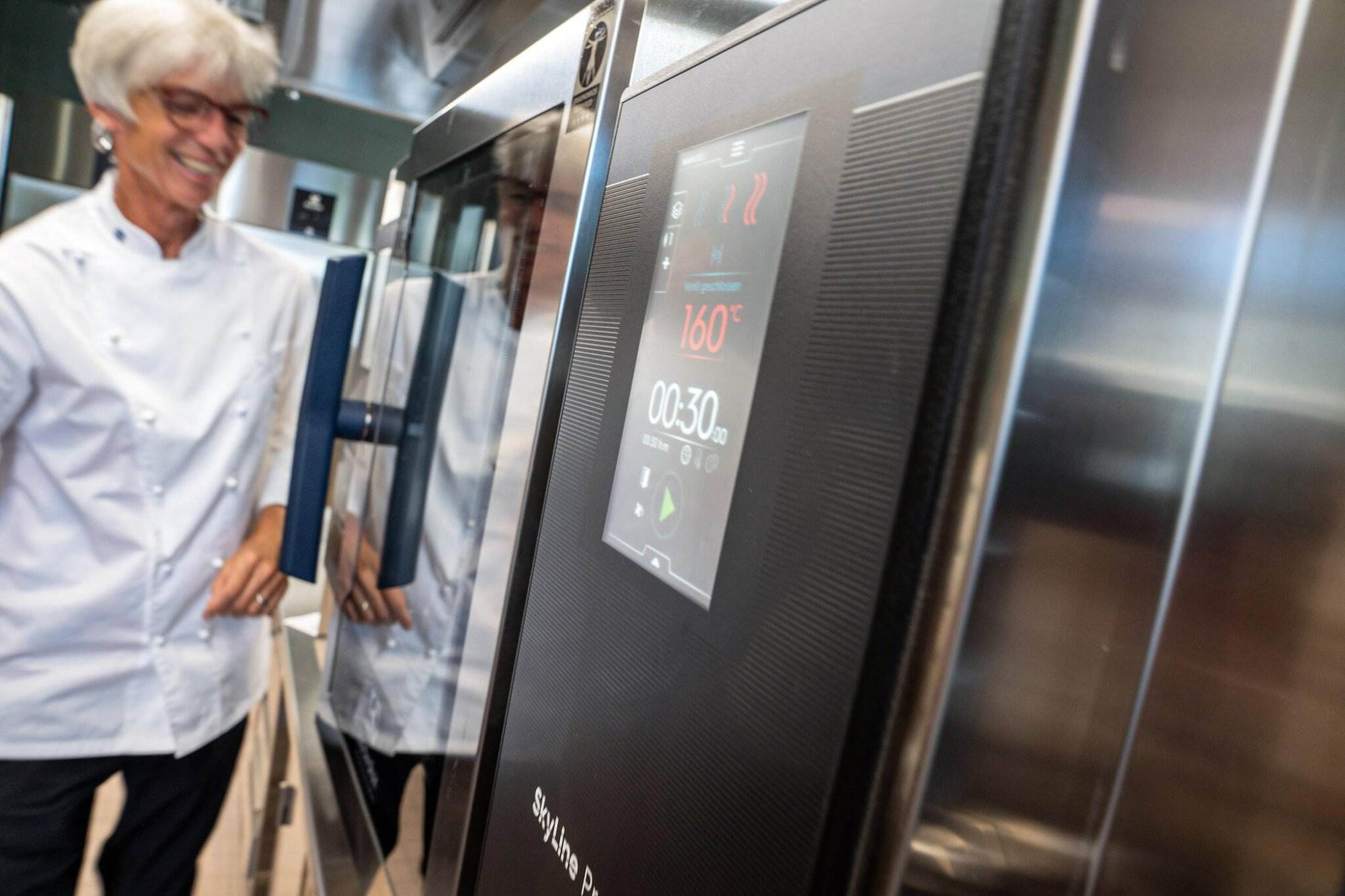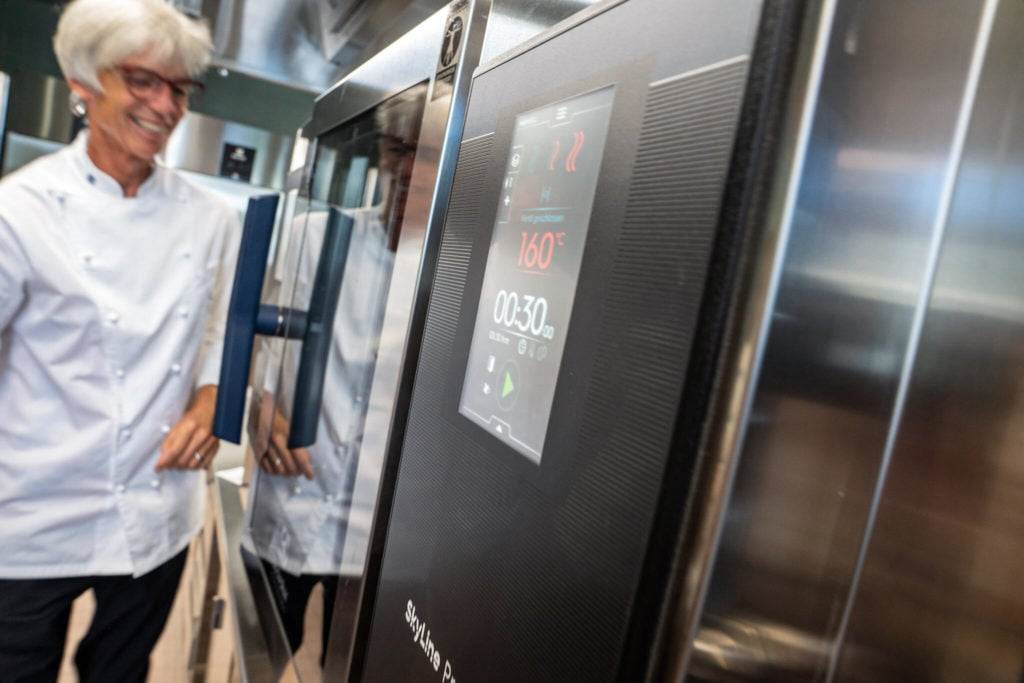 Cooktops
Choose between our induction cooktops or electric "Ecotop" solid tops to save energy in your kitchen. Our induction cooktops are made to measure and automatically stop energy flow when no pans are detected. This cooking system reduces energy consumption by 60%. Our electric solid tops with the special "Ecotop" coating assure 35% less energy consumption.
Electric grills
Our high-performance electric grills reduce grilling time, saving on energy, and can be kept on minimum while not in use. They then quickly reach high temperatures for grilling thanks to our quick heat technology. Choosing an Electrolux Professional electric grill saves 30% on energy consumption compared to other standard models.
Ovens
Our SkyLine combi oven reduces running time and is designed with the user in mind, with ergonomic features. It relies on a Plan&Save feature that's based on Artificial Intelligence that optimizes cooking sequences to enable 10% energy savings.
High-speed cooker
The SpeeDelight high-speed cooker uses 60% less energy than regular cookers thanks to its innovative energy-saving mode. It also includes a new feature that puts the unit on standby after a customizable amount of time, helping you to save even more energy. 
Dishwashers
Choose the 'green&clean' Rack Type dishwashers to use less water, detergent, electricity, and rinse aid for 34% energy savings. Our single rinse Rack Type guarantees the lowest running costs, which can save you €3,530* a year. It's also a sustainable choice as you'll be using 53%* less water, reducing energy consumption by 19%*, and using 53%* less detergent and rinse aid.
*based on internal tests
Final thoughts
With energy prices showing no signs of dropping and a more urgent focus on what we're doing to help protect our planet, now is the time to make changes in your kitchen. From small everyday changes to investing in energy efficient commercial kitchen equipment, there are many ways to be greener and save business costs.
Save more with Electrolux Professional
---
BECOME A WORLDCHEFS PARTNER
Partner with Worldchefs to get connected with our international membership of professional associations, hospitality schools, and companies around the globe.
Learn more about our partnership opportunities here.