The Young Chefs' Challenge 2022 is hosted by the Mauritian Chef's Association and will be held on the 21st of October 2022 at the École Hôtelière Sir Gaetan Duval.
For more information, please visit their website.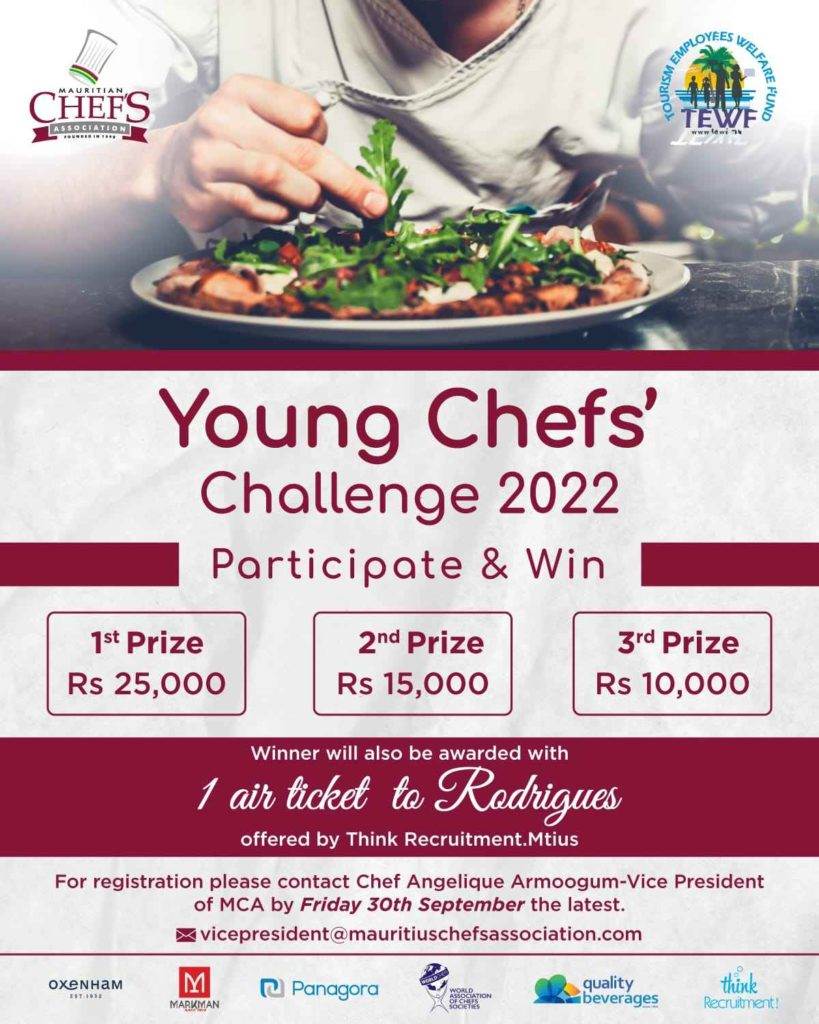 ABOUT THE HOST
Mauritian Chef's Association (1998- 2023- 25th Anniversary)
The Mauritian Chef's Association member of World Association of Chefs Societies was founded in 1998.  Ever since, the association has been contributing without fail to the advancement of the culinary sector of Mauritius by promoting the finest Mauritian gastronomy. The exclusive characteristic of the MCA is to bring together the savourly , passionate and ever progressing culinary masters and amateurs of this field in appreciation of the multicultural flavoury cuisine that the island has to offer. The Mauritian Chef's Association under the presidency of Chef Mooroogunn Coopen, held its Annual General Meeting on Friday 17th  June 2022,  at the Sir Gaetan Duval Hotel School, Ebene. In the context of pursuing excellence and maintaining an uninterrupted continuous progress of a sustainable development of the culinary art, the executive committee reviewed the various activities undertaken during the year 2021/2022 amidst the Covid 19 pandemic through training sessions, competitions, events, Chefs Challenges and Human Resources.  The AGM based on unanimous voting also took note of the Newly Elected Executive Members of the MCA for the year 2022/2023… Master Chef Mooroogun Coopen was elevated for another mandate to the post of presidency of the MCA.
---
APPLY FOR A WORLDCHEFS ENDORSEMENT
Take your competition to the next level with Worldchefs competition endorsement, a prestigious recognition, achieved by competitions that meet the highest standards of quality. This endorsement provides exceptional opportunities for visibility to an audience of culinary professionals.
Benefits include:
Tap into a global community of chefs for greater networking and business opportunities.
Unlock new possibilities with optional digital badging and event competition software.
Gain free of charge digital badges for competitors and winners with co-branding opportunities.
Gain access to downloadable evaluation and scoring sheets on Worldchefs website.
Learn more and apply to endorse your competition: https://worldchefs.org/Endorsement/