Join us for a roundtable discussion exploring The Future of Work in Hospitality during Food & Hotel Digital Week.
When: 16 July – 15:30 to 16:20 Singapore time zone, 9:30 to 10:20 European time zone
Where: Zoom
How: Register HERE
---
Do Skills Still Matter?
Before COVID-19, the hospitality industry suffered from widening skill gaps and challenges with retention of talent. Now, with the gradual re-opening of the sector, most employers are forced to reduce their workforce to make their operations commercially viable. So what does this mean for skills, recruitment and staff development?
This expert panel will explore:
Sudden change in the landscape: staff shortage vs oversupply
The shift in 'power' in recruitment: skills in demand and who is recruiting
Staff training and development: areas of investment and sacrifices
Employer-led skills strategies to support the recovery of the industry and planning for growth
---
About the Experts
Fabrice Tessier
VP School Relations & Partnerships at Accor Hotels
Fabrice Tessier has been a member of the Accor family since the beginning of his career. Since 2010 he holds the position of VP School Relations and Partnerships for Accor Group. His achievements have been rewarded with a recognition Award from Ecpat NGO in 2004, a nomination for Innovation by The Hospitality Awards in 2010 as well as Company with best recognized relations with schools in 2018 and 2019. He started his career as restaurant manager in Paris, moving to hotel management. Fabrice's passion for developing talent made the move into human resources a natural progression. In 2000, he was appointed Vice President Human Resources Accor in Asia based in Bangkok. 22,000 employees were working in the organization including 260 expatriates in 10 Asian countries. From there he moved to different positions in HR within Accor as VP HR, and Project Director. His current role is aligned with the future needs of recruitment for Accor, namely, to identify and develop partnerships with the best Hospitality Schools, Universities and Business Schools. The goal is to see an increasing number of graduates taking management positions within Accor for the benefit of our industry development.
Jeremy Dahdi FCCA
Executive Director, End Point Assessment, International and Digital Credentials at City & Guilds
Jeremy is passionate in delivering the City & Guilds / ILM purpose around the world: helping people, organisations and economies develop their skills for growth. As Executive Director at City & Guilds, Jeremy oversees the strategic development of awarding, assessing and credentialing learners and employees across the globe. The focus for City & Guilds / ILM internationally includes the provision of best in class vocational services in hospitality & catering, leadership & management and Maths & English that are applicable to training providers, employers and governments equally. Jeremy has spent most of the past decade working in the TVET sector and he previously qualified and worked as a Chartered Accountant. Jeremy spends some of his free time volunteering as a School Governor, shaping the strategy of a UK school for 11-18 year olds. Jeremy also enjoys cycling up and down mountains across Europe. Jeremy is married and has two teenage daughters that keep life very challenging!
Andy Cuthbert
General Manager at Jumeirah Creekside Hotel and Madinat Jumeirah Conference & Events Jumeirah Hospitality and Chairman of Emirates Culinary Guild
With a career spanning more than three decades, Andy Cuthbert is considered one of Dubai's leading figures in food and hospitality. Since joining Jumeirah Group in 2000 as Director of Operations for Jumeirah Hospitality, Australian-born Cuthbert has played an instrumental role in steering the culinary standards within Dubai's leading luxury hotel company. Cuthbert, also Chairman and founding member of the Emirates Culinary Guild, added further strings to his bow in June 2016 when he was appointed General Manager at Jumeirah Mina A'Salam and in August 2018 when he was appointed General Manager at Jumeirah Creekside Hotel, his current role to date.
John Lohr
Director of Development at Hosco
John Lohr is an international American currently residing in Barcelona, Spain. He is a Glion Switzerland graduate who has amassed over ten years of hospitality, tourism, and education sales work experience in +40 countries. For Hosco, John leads the strategic partnership development with hospitality schools, departments, and associations. Earlier, John worked with IHG hotels in Thailand and India and served as the Director of Business Development for the American Hotel & Lodging Educational Institute (AHLEI) in Europe. He has also held various board positions for EuroCHRIE, the Council of Hospitality, Tourism, and Event Educators.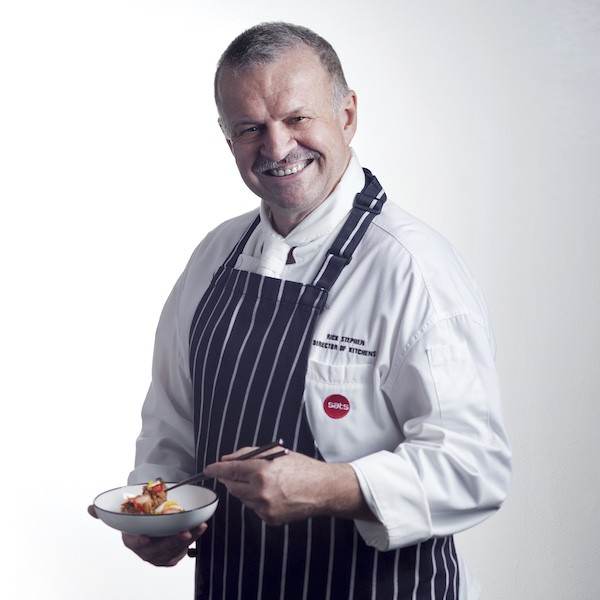 Rick Stephen
Director of Kitchens at SATS Ltd Singapore and Worldchefs Continental Director for Asia
Rick Stephen is a 3rd generation chef and hails from the food capital of Australia – Tasmania. The first Australian to be awarded the 'Certified Master Chef', he started his career in 1972 under world-renowned chef Claudio Magris. Rick owned Raphael's restaurant in Brisbane for 12 years and received 3 Chefs Hats, the highest rating a restaurant can be awarded in Australia. In 2009, he joined SATS Ltd in Singapore as the Executive Chef for the Inflight Catering Centre 1 (ICC1), catering to Singapore Airlines in the vicinity of 50-60,000 meals per day. In 2015, Rick was promoted to Director of Kitchens to oversee the running of all of the SATS kitchens, which consolidated produces a total of 400,000 meals per day. Rick is also the Continental Director for Worldchefs in Asia. A coach and mentor for a number of national culinary teams, Rick himself has won 82 gold medals internationally, including Australian Chef of the Year. Rick's philosophy has always been about sharing information, supporting the white coat that he is proud to wear every day and to promote the young chefs who are the future of the culinary profession.
Ragnar Fridriksson
Managing Director of Worldchefs
Ragnar Fridriksson is a hospitality professional with over 30 years of international experience. He has held the position as Managing Director of the World Association of Chefs Societies (Worldchefs) since 2009. A global body that represents national chef associations in over 100 countries. He has a wide experience as a manager, marketing consultant, published food & wine author, food photographer, sommelier and restaurateur. Ragnar holds an MBA from Bradford University, UK, a Masters degree in gastronomy sciences from Hautes Etudes de Goût – HEG, France and a Bachelors degree from Norwegian School of Hotel & Tourism Management in Stavanger.
---