Qatar Chefs Challenge 2023
The 2023 edition of QCP Corporate Roadshow is back at a perfect time to have a culinary competition in Qatar. It is open for all professionals. The organizing committee is proud and honored to host this event with its' Corporate Partners from May 15-17,2023 at Park 900 Doha.

We welcome & invite all Chefs to participate at Qatar Chefs' Challenge 2023, to reconnect & share your personal experiences and learning at this prestigious culinary event.

The objective of the competition is as always to provide channels promoting culinary excellence, the skills and abilities of Chefs from near and far. Now it is an excellent opportunity for industry professionals to display their culinary talents and services and to gain experience & promote communication within the regional culinary community. We will continually focus on promoting sustainability, food safety & reducing waste. Qatar Chefs Challenge is a Worldchefs, "World Association of Chef's Societies" endorsed competition and in-line with WorldChefs rules and regulation.
We are offering a variety of competition categories where the competitors can showcase their skills and passion.

The Organizing Committee would like to thank its' Corporate Partners and supporters who have contributed to the past events with much success. We look forward to your cooperation in bringing this year Qatar Chefs' Challenge to live and make it the first major hospitality show of QCP this year.

Wishing all the competitors the best of success and a wonderful experience. We are looking forward to welcome you at QCC2023 in celebration of QCP Corporate Roadshow.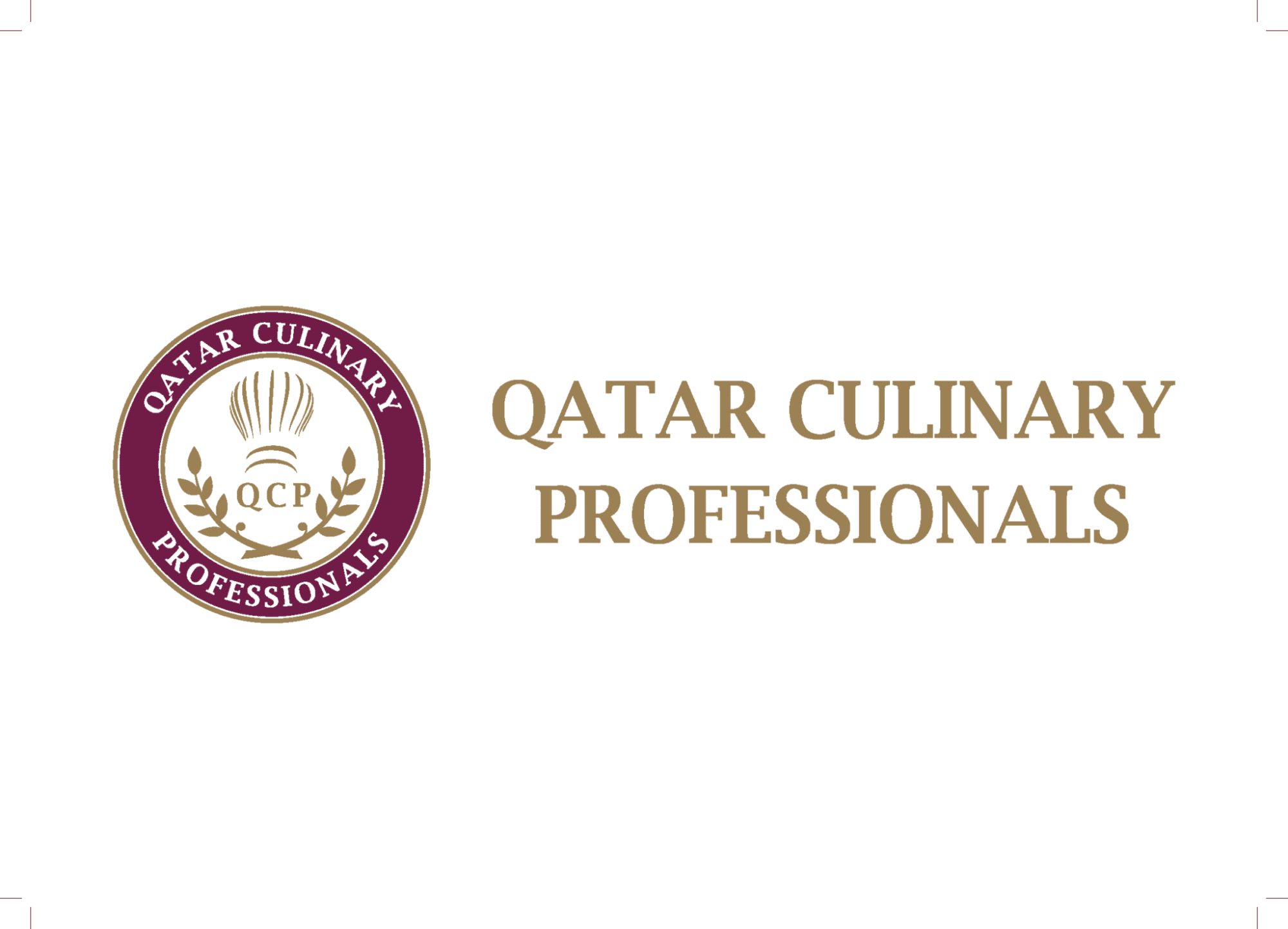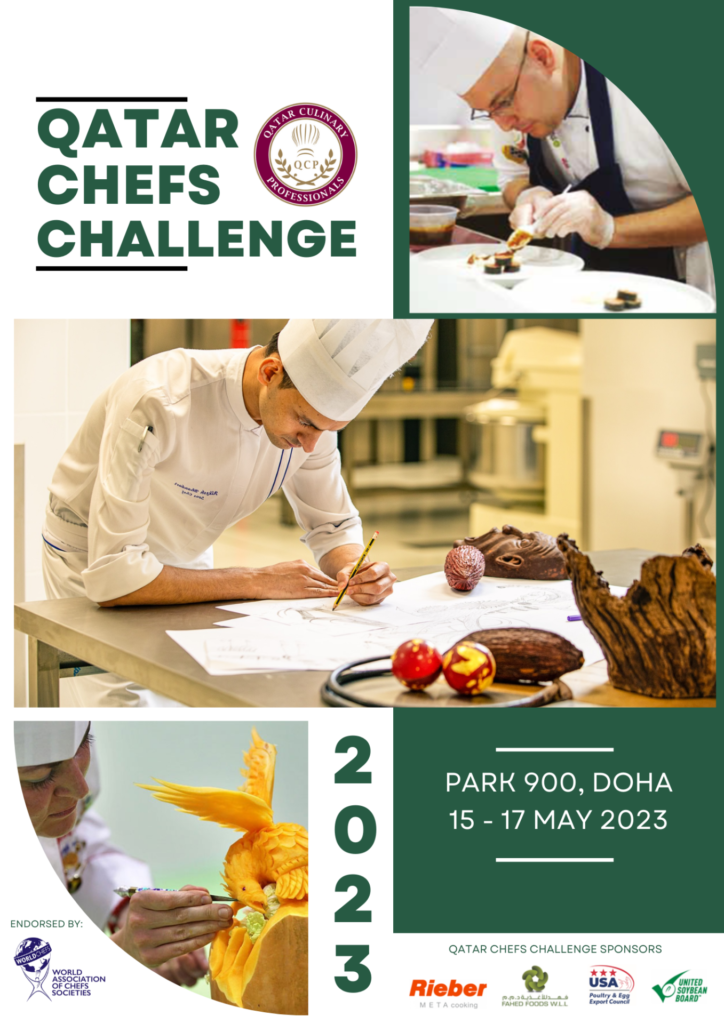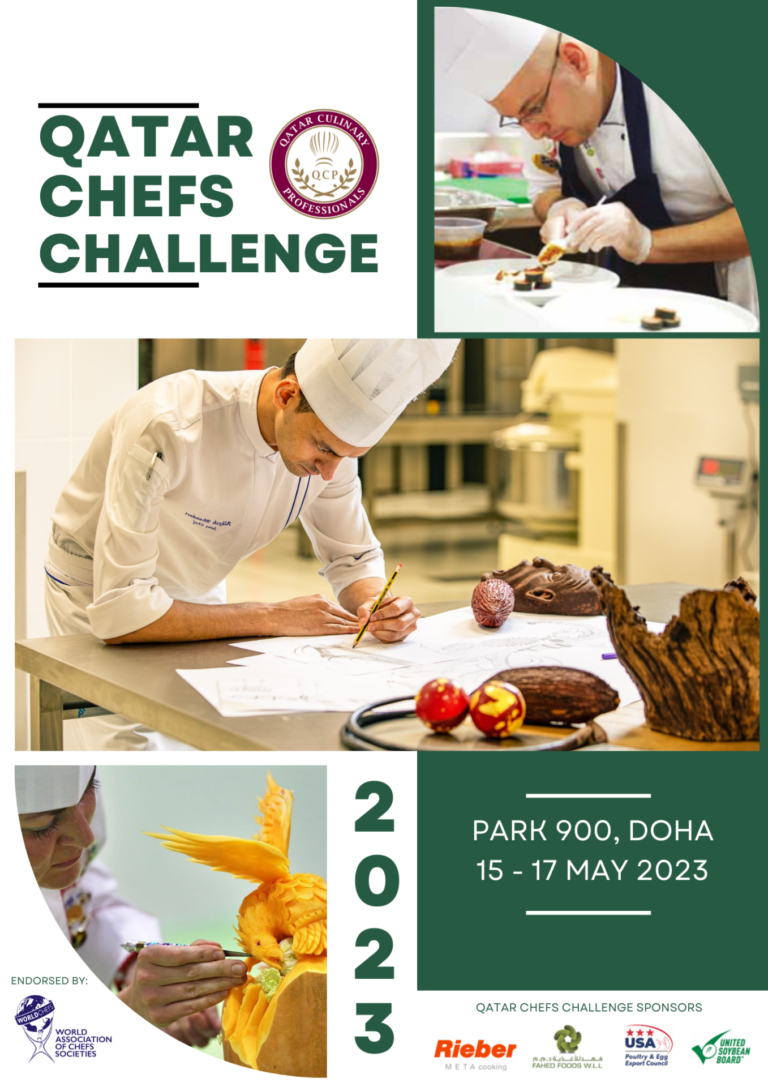 ---
APPLY FOR A WORLDCHEFS ENDORSEMENT
Take your competition to the next level with Worldchefs competition endorsement, a prestigious recognition, achieved by competitions that meet the highest standards of quality. This endorsement provides exceptional opportunities for visibility to an audience of culinary professionals.
Benefits include:
Tap into a global community of chefs for greater networking and business opportunities.
Unlock new possibilities with optional digital badging and event competition software.
Gain free of charge digital badges for competitors and winners with co-branding opportunities.
Gain access to downloadable evaluation and scoring sheets on Worldchefs website.
Learn more and apply to endorse your competition: https://worldchefs.org/Endorsement/