HKICC 2023 Hong Kong International Culinary Classic
Tremendously grown in the past decade, Hong Kong International Culinary Classic (HKICC) proudly held its another successful edition in 2021. Endorsed by the Worldchefs – World Association of Chef's Societies and co-organized by the Hong Kong Chefs Associations (HKCA), HKICC will return to HOFEX from 10 – 12 May 2023 where the best and brightest convene to show mastery in culinary arts. It's time to spread your influence and cultivate the younger generations of your industry!
We provide various sponsorship opportunities for you to network with industry professionals. Please contact us at [email protected] for more details.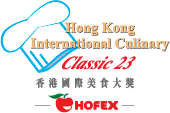 Hong Kong International
APPLY FOR A WORLDCHEFS ENDORSEMENT
Take your competition to the next level with Worldchefs competition endorsement, a prestigious recognition, achieved by competitions that meet the highest standards of quality. This endorsement provides exceptional opportunities for visibility to an audience of culinary professionals.
Benefits include:
Tap into a global community of chefs for greater networking and business opportunities.
Unlock new possibilities with optional digital badging and event competition software.
Gain free of charge digital badges for competitors and winners with co-branding opportunities.
Gain access to downloadable evaluation and scoring sheets on Worldchefs website.
Learn more and apply to endorse your competition: https://worldchefs.org/Endorsement/
Hong Kong International
Philippine Culinary Cup