Global Chefs Challenge – Africa & Middle East Regional Semi-Finals
The Global Chef Challenge Africa & Middle East Regional Semi-Finals will be held in Sharjah, United Arab Emirates, 29- 31, May 2023 as part of Expo Culinaire and Emirates Salon Culinaire.
INTRODUCTION – THE ROAD TO SINGAPORE
For the 2024 Global Chef Challenge Final, 40 teams will compete in Singapore across 4 categories: The Global Chefs Challenge, the Global Pastry Chefs Challenge, Global Young Chefs Challenge and Global Vegan Chefs Challenge.
The host country for the Worldchefs Congress and Global Chefs Challenge Final always receives a "wild card" position for their team in each of the 4 categories, qualifying without having to necessarily place in any partner or semi-final competition.
The remaining teams to join the competition ranks must first advance through national qualifying rounds before moving on to Regional Semi-Finals. These 7 regional winners then advance to the world stage to compete for top honours alongside the prequalifying Culinary World Cup contenders at the Global Chef Challenge Finals.
For this final in 2024, there will be 2 global chef senior competitors selected per region and then 1 for Vegan,1 for pastry and 1 for Young chefs categories. So we have the opportunity to have a total of 5 chefs competing in Singapore from our region.
We will use the rules and regulations that were done in Abu Dhabi and these are attached. We will also be reaching out to sponsors for similar products, already VanDrie Veal and Dilmah Tea will be used, we will try and get more sponsored items. Please read these documents for other information.
Competition: Global Chefs Challenge
As per the finals rules and regulations in Abu Dhabi and as attached.
Competition: Global Chefs Pastry Challenge
As per the finals rules and regulations in Abu Dhabi and as attached.
Competition: Hans Bueschkens Young Chef
As per the finals rules and regulations in Abu Dhabi and as attached.
Competition: Global Chefs Vegan Challenge
As per the finals rules and regulations attached.
Guidelines for categories
The Challenge:
No wastage; see Worldchefs rules:
If one compulsory ingredient item is missing from the presented dish, it will result in reduction of 50 points
General Rules
All sponsored ingredients are to be used. Sponsored ingredients shall be made notified 5 months before the competition
Worldchefs Competition rules will be followed
Worldchefs judges shall be the jury made up from each competing country
THE DETAILS
Date: The Global Chef Challenge Africa & Middle East Regional Semi-Finals will be held in Sharjah United Arab Emirates 29th to 31st May 2023.
Venue: Expo Centre Sharjah
Who can enter?
Each of the Worldchefs member countries in Africa and the Middle East. Countries must be fully paid-up members of Worldchefs. One competitor per country per category only.
How should each country select their competitor for the Continental Competition?
Each country may hold a National Competition, as outlined above, following exactly the same guidelines as the Semi- Final and Final Competitions, or may simply select a competitor if time does not allow for a National Competition.
How will the competition take place?
The chefs from each country will compete according to the guidelines above.  There will be competition kitchens and cooking will commence at five-minute intervals, starting at different times for different competitions.
What does the participating team need to bring?
Each team must bring the following:
Knives
Chefs uniform, including chefs' jacket, black trousers, black shoes and white apron. Potential Sponsored jackets, hats and aprons may be supplied TBC.
Accommodation:
The Emirates Culinary Guild will provide accommodation for the competing chef and 1 judge from each country for certain nights. Any additional members of a delegation must make their own arrangements.  It is advised that flights arrive no later than midday on 27 May in order to allow for preparation ad briefing. Organizers provide 1 single room for judge and 1 twin room for competitors to share additional rooms at countries expense.
Transport within United Arab Emirates:
All arrangements for transport to and from the airport are to be done by the teams, refrigerated trucks will be supplied for the teams on competition day and mini bus. More details to follow
Breakfast, Lunch and Dinner:
Breakfast will be included in the hotel rooms supplied by Emirates Culinary Guild only, lunch and dinners are at the teams expenses, all teams will be invited to the Gala dinner.
Guidelines for competitors and jury:
Dress of the competitors and jury: Chefs jacket with national logo, black trousers, shoes and white apron.
Official jury language in the competition: English.
Prize giving will take place at the Gala dinner on the 17th of May 2023. Venue TBC
DEADLINES AND HOW TO ENTER
Entries from each country must be received by no later than 15th January 2023 for country name and Judge, then competitors by 20th February 2023. Your completed entry form must be accompanied by the CVs of the chef and judge, along with a hi-resolution photograph of each person.
No late entries will be considered for the competition.
Download and complete the entry form below and email to Andy Cuthbert at [email protected], along with a CV on each of the team members. Any questions to be addressed to Andy Cuthbert Chairman Emirates Culinary Guild on above email.
MORE INFORMATION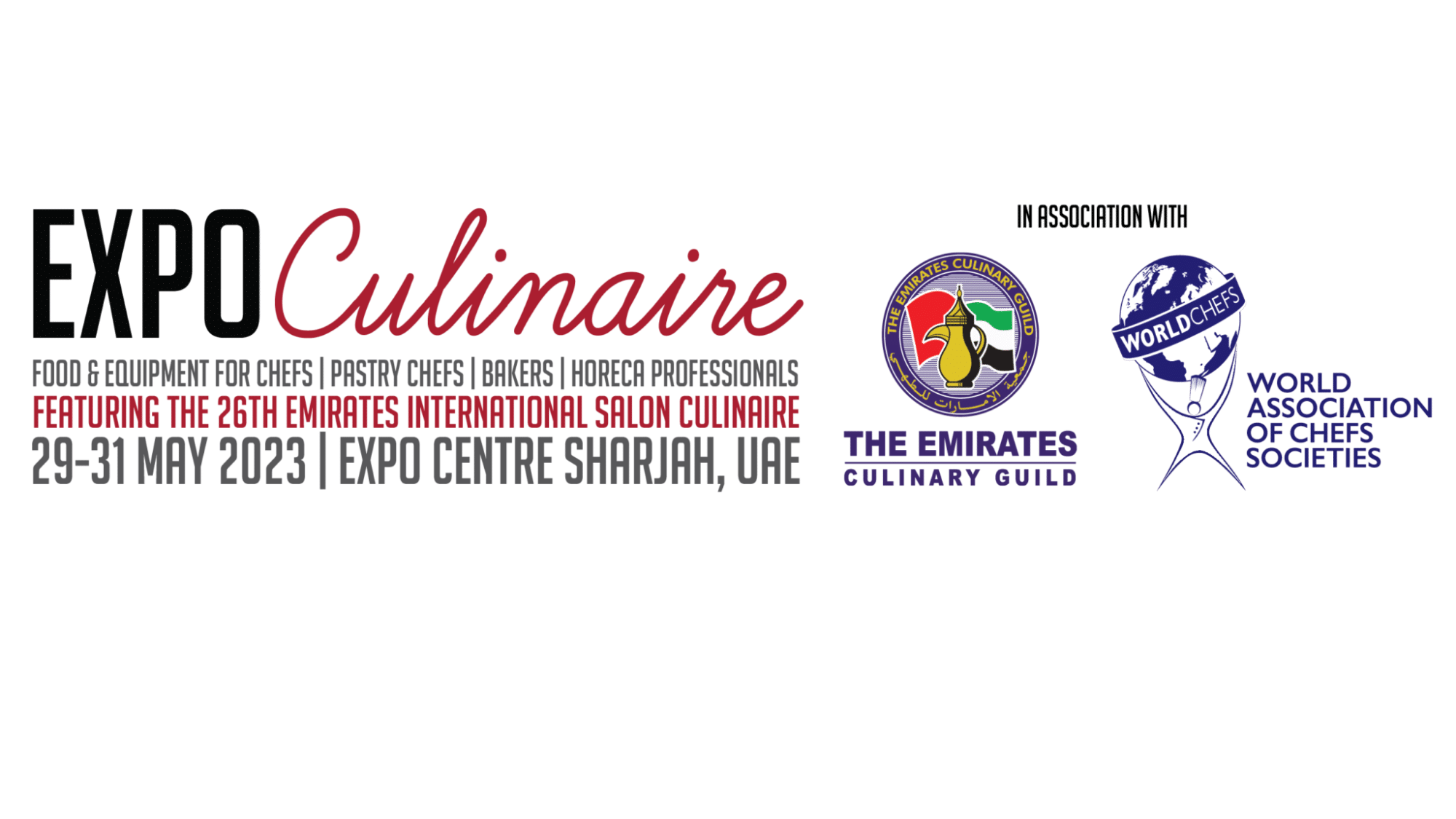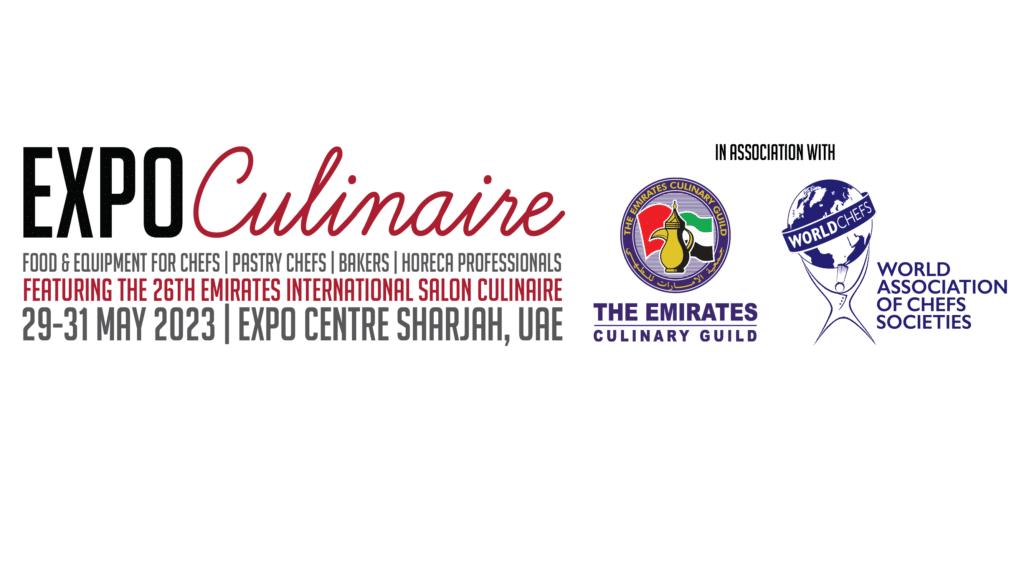 .