Join Worldchefs Live at ExpoCulinaire 2021- Virtual for a panel discussion with four experts on Worldchefs Global Certification.
As the only international benchmark for hospitality professionals, learn how Worldchefs certification can help you as an individual and/or employer.
Reserve your place by registering below!
Practical Information
Topic: Future Proofing Your Skills with Worldchefs Certification
When: April 6th
Time: 3:30 PM GST (Dubai) / 1:30 PM CET (Paris)
Where: ExpoCulinaire 2021 (see schedule here)
---
About the Guests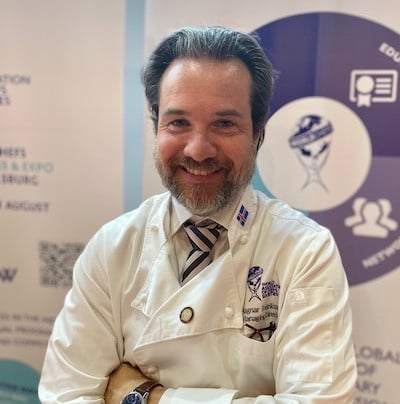 Ragnar Fridriksson, Worldchefs Managing Director
Ragnar Fridriksson is a hospitality professional with over 30 years of international experience. He has held the position as Managing Director of the World Association of Chefs Societies (Worldchefs) since 2009. A global body that represents national chef associations in over 100 countries. He has a wide experience as a manager, marketing consultant, published food & wine author, food photographer, sommelier and restaurateur. Ragnar holds an MBA from Bradford University, UK, a Masters degree in gastronomy sciences from Hautes Etudes de Goût – HEG, France and a Bachelors degree from Norwegian School of Hotel & Tourism Management in Stavanger.
John Clancy, Worldchefs Education Director
He is responsible for the management and direction of Worldchefs educational programs including Recognized Culinary Schools and Worldchefs Global Certification. John has led the development of Certification in partnership with City and Guilds. He brings a wealth of expertise with more than 30 years of experience as an academic and chef. He is a Past President of the Panel of Chefs of Ireland, and was Congress Director for the Worldchefs World Congress 2004. He is a Worldchefs Certified Culinary Judge and has represented Ireland as an International Judge for the World Skills. He has numerous awards from chef associations including honorary membership from Worldchefs and the World Gastronomy institute. He continues to play an active role in the National Chef Association in Ireland as a member of the National Apprenticeship consortium and advisory group.
Dora Timar, Senior Manager: Recognitions and Frameworks, City & Guilds
Dora has over two decades of experience in skills development and policy, working with employers, professional bodies and governments around the world to create skills solutions which enable the recognition and certification of skills. In her current role, she specialises in designing propositions for innovation projects that underpin City & Guilds' strategy to help connect people with jobs. Dora has been leading the work on the Global Hospitality Certification which is the first and only global certification for the hospitality industry, underpinned by digital credentials, and developed in partnership with Worldchefs, the global professional body for chefs.
Andy Cuthbert, Director of Operations, Jumeriah Hospitality. Continental Director for Africa Middle East, Worldchefs
With a career spanning more than three decades, Andy Cuthbert is considered one of Dubai's leading figures in food and hospitality. Since joining Jumeirah Group in 2000 as Director of Operations for Jumeirah Hospitality, Australian-born Cuthbert has played an instrumental role in steering the culinary standards within Dubai's leading luxury hotel company. In the years since joining Jumeirah, Cuthbert has taken up a number of leadership positions in the company, gaining extensive experience across multiple parts of the business, from banqueting and catering to resort management.
---
Worldchefs Global Certification
for the Hospitality Industry
Hospitality is one of the world's largest and fastest-growing industries. Today it ranks as the largest employer in the world, representing 1 in every 10 jobs. Yet, employment in the industry can be a challenge for businesses and workers alike.
Co-designed with leading employers, Worldchefs Global Hospitality Certification matches experience gained on the job against a global benchmark for hospitality professionals, taking real-life workplace skills and making them visible, measurable, and global.