7th JeJu local Cuisine Competition 2023
The Jeju Local Cuisine Competition, which celebrates its 7th anniversary this year, is South Korea's most renowned cuisine competition held in Jeju Island, also known as the "Island of World Peace and Cleanliness."
Jeju Island is a place that can is indescribable in words. It is a place to be immersed in, and needs to be seen , heard, and felt for a more complete understanding of its significance.

We sincerely look forward to your active participation in the 7th JeJu local Cuisine Competition 2023 as a leader in the future cooking culture. The competition will be held at Hanla Convention Center at Hanla University in Jeju from November 11 to 12, 2023.
Please show your culinary skills to the fullest and achieve the desired results by participating in 7th JeJu local Cuisine Competition 2023 We welcome all of you to this high-level and prestigious competition.
Venue : JeJu Hanla University, Hanla Convertion Center, JeJu, South Korea
• Website page ; http://www.kcajeju.co.kr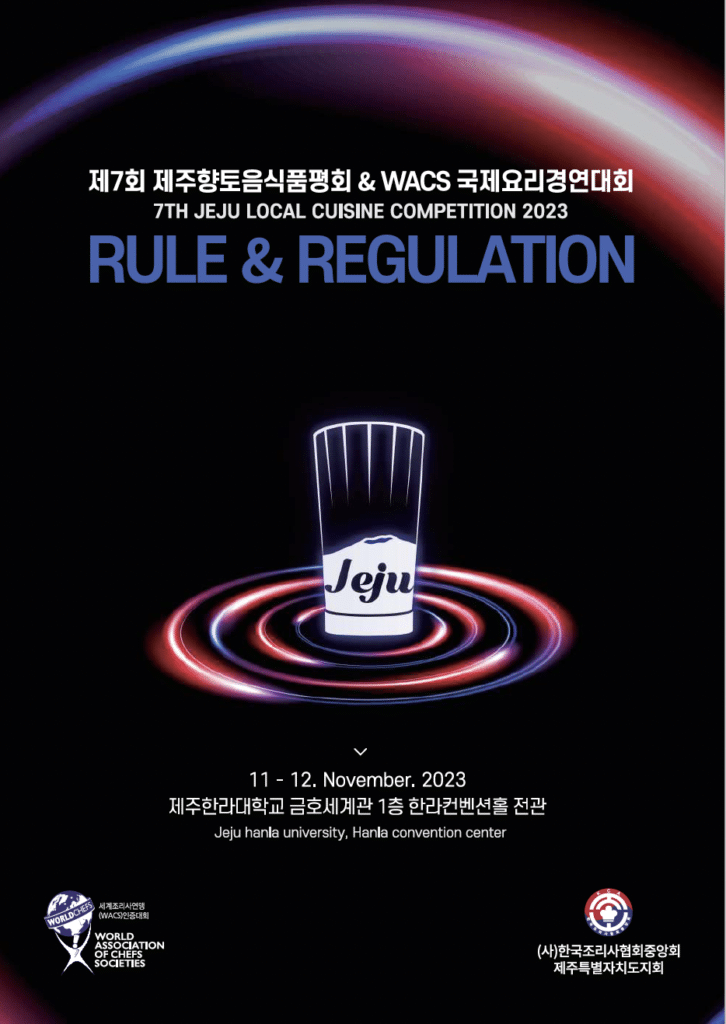 ---
APPLY FOR A WORLDCHEFS ENDORSEMENT
Take your competition to the next level with Worldchefs competition endorsement, a prestigious recognition, achieved by competitions that meet the highest standards of quality. This endorsement provides exceptional opportunities for visibility to an audience of culinary professionals.
Benefits include:
Tap into a global community of chefs for greater networking and business opportunities.
Unlock new possibilities with optional digital badging and event competition software.
Gain free of charge digital badges for competitors and winners with co-branding opportunities.
Gain access to downloadable evaluation and scoring sheets on Worldchefs website.
Learn more and apply to endorse your competition: https://worldchefs.org/Endorsement/