IICA – IANS Shines At AAHAR 2023
AAHAR – The International Food & Hospitality Fair is a flagship event organized by India Trade Promotion Organisation (ITPO), the premier trade promotion body of the Government of India.
Culinary Art India 2023, the 15th culinary contest and display of excellence challenge, hosted by the Indian Culinary Forum and organized by ITPO and Hospitality First, is held in conjunction with the 37th edition of AAHAR International Fair 2023, the International food, hospitality, and beverages tradeshow, which ran from March 14 to March 18, 2023, Pragati Madan, New Delhi.
During its 15th edition, Culinary Art India (CAI) witnessed live demonstrations by over 300 renowned chefs demonstrating their excellent cooking skills. This professional culinary challenge drew national-level participation from senior and apprentice chefs from India competing on an internationally modeled platform.
IICA is proud of its long-standing association with the Indian Culinary Forum & Chef Davinder Kumar (President, ICF), who gave the institute a wonderful platform to showcase the culinary talent of our budding chefs. In addition to one of the highest active participation of students in the competition, ICF Invited IICA Executive Chef – Sumit Gupta and Executive Pastry Chef – Akash De to conduct live demonstrations promoting and teaching healthy millet recipes to the audience comprising of chefs & students from various institutes.
Institute's joy and pride were doubled when the young chefs grabbed silver and bronze medals in various culinary and bakery competitions and brought accolades to the institute and the accrediting partners, City & Guilds, and the World Association of Chefs' Societies.
City & Guilds plays a vital role in providing high–quality vocational education and training & helping individuals to achieve their career goals. IICA is proud to be the first institute to be approved in India by both awarding bodies.
The culinary challenge was judged by Worldchefs certified noted chefs from India and abroad, while well-known Chef Sireesh Saxena was the organizing secretary.
AAHAR Winners! Kudos to you all…
Silver Medal Awardees
Chef Ishita Singh (Student Culinary Arts, Level 3– Batch 2022)
Chef Radhika Goel ( Student Culinary Arts, Level 3 – Batch 2021)
Chef Rina Nangbia (Student Diploma & Patisserie, level 3 – Batch 2022)
Bronze Medal Awardees
Chef Priyanka Sihra (Student Culinary Arts, Level 3 – Batch 2022)
Chef Rahul Kumar (Student Culinary Arts, Level 3 – Batch 2022)
Chef Ishaan Rohra (Student Culinary Arts, Level 3 – Batch 2022)
Mr. Arjun S. Datta was moved by seeing the young chefs with their medals and came to cherish this amazing and successful association.
"As an avid food lover and professional in the food industry, I cannot speak highly enough about AAHAR & ICF. This amazing International Food & Hospitality Fair not only brings together some of the most talented chefs and culinary experts from all over the world but also promotes and showcases local food & culture in a unique and exciting way. We have had the privilege of attending several of their festivals and each one has been a remarkable experience." – Mr. Arjun Datta (Managing Director & COO – IICA, New Delhi)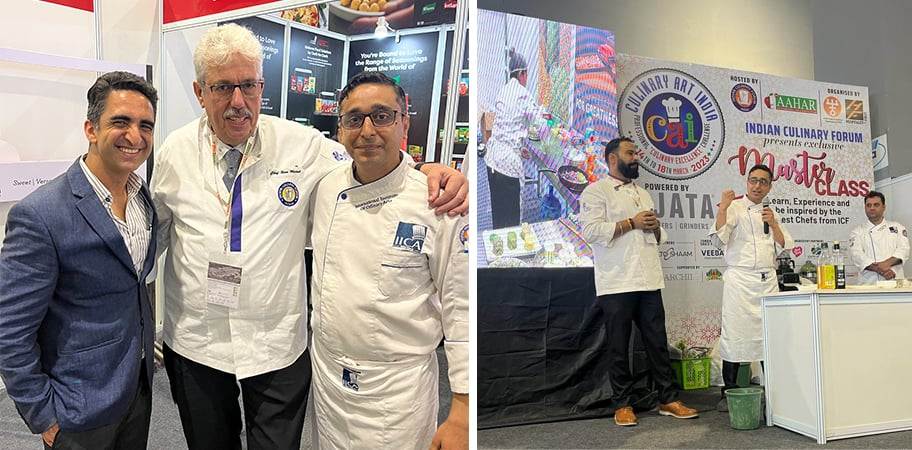 Mr. Arjun Datta (MD & COO – IICA, New Delhi), Chef Uwe Micheel (President of the Emirates Culinary Guild), and Chef Sumit Gupta( Executive Chef – IICA, New Delhi) at AAHAR 2023
AAHAR 2023 became more special and nostalgic for our executive chef, Sumit Gupta, as it brought back the memories of his early days of becoming a chef and working with Chef Uwe Micheel (President of the Emirates Culinary Guild) at Radisson Blu, Dubai Dehra Creek. From trying and developing new recipes to curating restaurant menus together, they cherished the time and earlier days of their careers.
Learn more about becoming a Worldchefs Education Partner here.