Since 2012, Worldchefs sustainable initiative, Feed The Planet has continuously driven sustainable changes across continents via its extended network of supporters and volunteers. In order to recognize and celebrate the tireless contribution of chefs, educators and enthusiasts who help to drive our sustainable efforts, Worldchefs has created the Feed The Planet Champion program.
Have you been teaching kids about sustainable food habits? Have you been tracking and reducing waste in your kitchen? Are you an avid follower of Worldchefs' monthly Sustainability Around the World webcast? If so, your ongoing efforts to promote and practice culinary sustainability will now be rewarded in the form of a digital badge and certificate issued by Worldchefs Feed The Planet.
With 3 levels of recognition, Feed The Planet Champion provides a credible record of your growing dedication to sustainability, starting from Awareness (Level 1) to Promotion (Level 2) and Engagement (Level 3). The application process is free of charge, in accordance with the criteria listed below.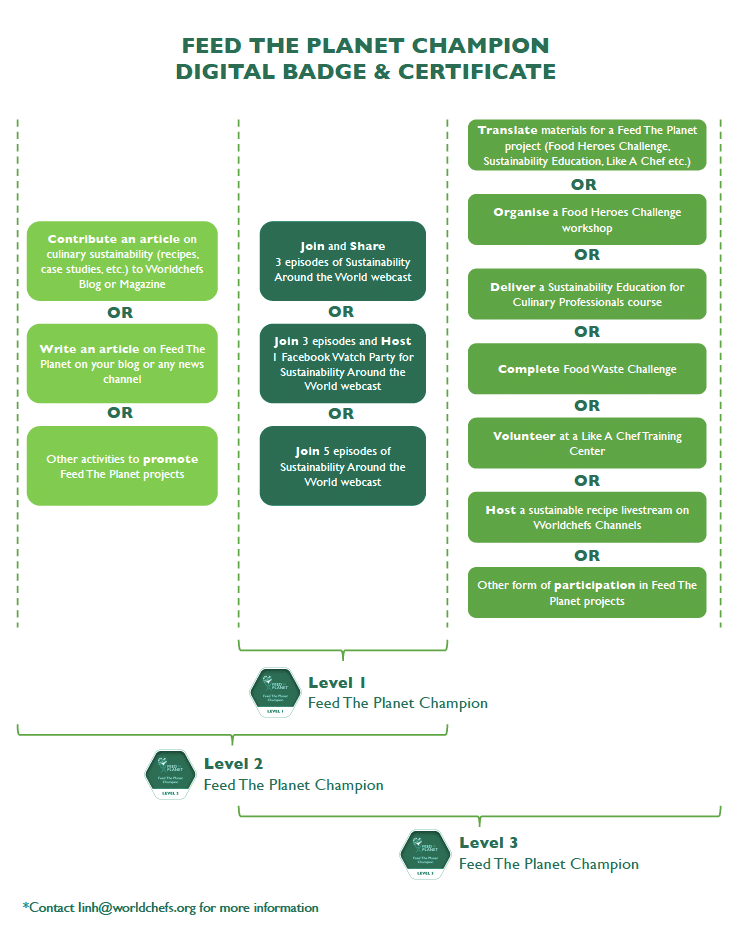 The application process is simple: choose a level that best fits your experiences and submit your evidences (photos, screenshots, certificates, documents, etc.). The application criteria are also downloadable HERE.
If you have any question, please reach out to Linh To, Feed The Planet Coordinator at [email protected]
Feed the Planet is an initiative founded by Worldchefs to inspire sustainable food consumption among communities and culinary professionals as well as to support people in need through education. Powered by Electrolux Food Foundation and AIESEC, the vision of Feed The Planet manifests in 4 major projects: Like A Chef, Food Heroes Challenge, Food Waste Challenge and Sustainability Education for Culinary Professionals. Since May 2020, the webcast Sustainability Around the World hosted by chef Chris Koetke is broadcasted, featuring outstanding culinary sustainability enthusiasts across continents.