PICC 2023 Becomes the Biggest Ever Culinary Championship of Pakistan
Pakistan – 7 April 2023 – The Chefs' Association of Pakistan (CAP) with the endorsement of Worldchefs, and the strategic partnership of College of Tourism & Hotel Management (COTHM), arranged the 5th season of Pakistan International Culinary Championship (PICC) 2023 on 14-26 March 2023 at the Royal Palm Golf & Country Club. With the participation of thousands of professional chefs not only from Pakistan, but also from abroad, PICC 2023 turned out to be the biggest-ever culinary championship of Pakistan.
Professional chefs from around 100 local hotels, restaurants, cafes, catering companies, and more participated in the culinary competition in different categories. International chefs from Worldchefs' National Member Associations not only competed for the title of 'Best International Chef,' but also performed the duties of judges for all the professional competitions. Besides the active participation of international culinary teams, National Culinary Team of Pakistan (NCTP), National Women Culinary Team of Pakistan (NWCTP), and Young Chefs Team of Pakistan (YCTP) in different cooking competitions, the championship also featured amazing food displays, fun eating competitions, Worldchefs Competition Seminar, and many other exciting activities.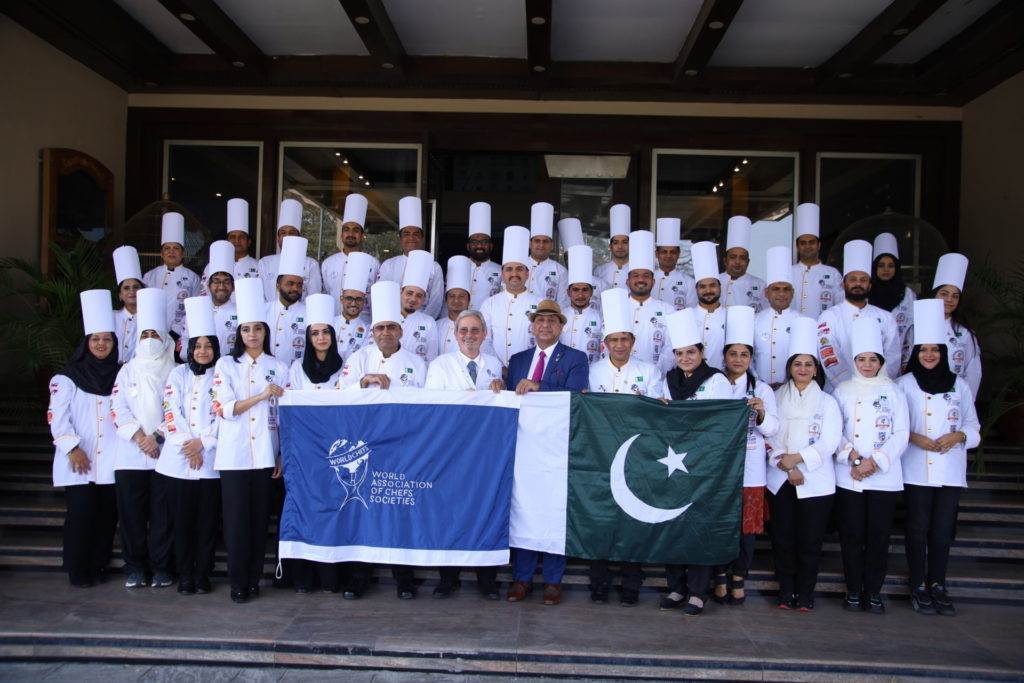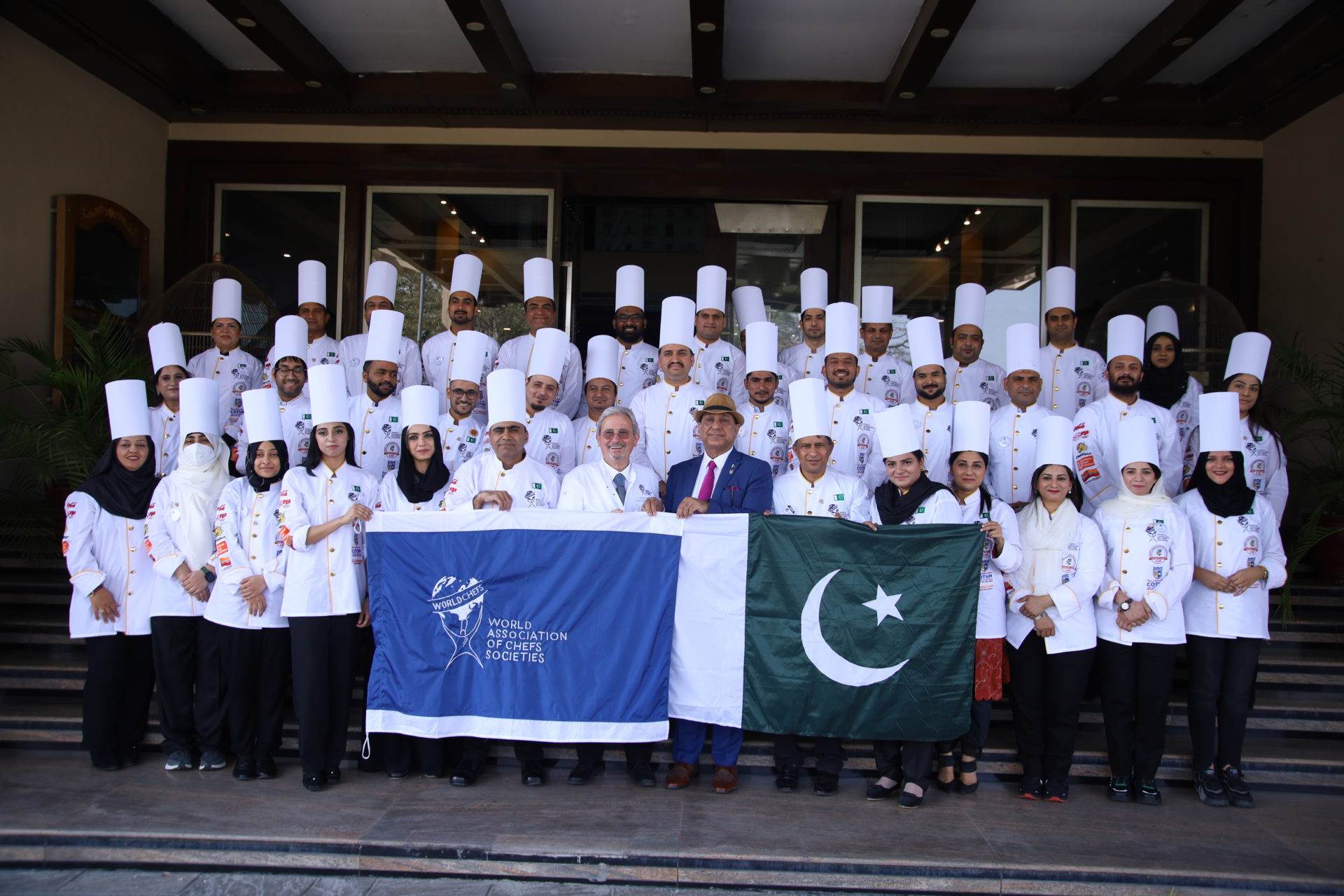 Young chefs from different mainstream schools, colleges, universities and culinary colleges also competed in different categories. A large number of professional and young chefs joined the event from Karachi, Islamabad, Multan, Gujranwala, Kasur, Okara, Bahawalpur, and Rahim Yar Khan.
The event was presented by Coca Cola as platinum sponsor, powered by KnN's and Cheezious Pakistan as gold sponsors, while Unilever Food Solutions, Shangrila Foods, Young's Food, Gobi's Paints and Ambassador Commercial Kitchen Equipment sponsored the event as silver sponsors. Realite Organic Farms joined the event as 'Vegetable Partner', Gobi's Paints as 'Décor Partner' while The Rich Hotel & Apartments acted as 'Hospitality Partner'.
Originations like Lahore Restaurant Association (LRA), Pakistan Tourism Development Corporation (PTDC), Punjab Food Authority (PFA), Walled City of Lahore Authority (WCLA), Parks & Horticulture Authority (PHA), and Discover Pakistan TV Channel supported the event as strategic partners. Discover Pakistan did exclusive shows on PICC 2023 during all three days of the event.
Dignitaries from different walks of life joined the event on all the three days and admired the job done by CAP and COTHM. Former Punjab governor Chaudhry Muhammad Sarwar, Member National Assembly Shaista Pervaiz Malik, PTDC Director General (DG) Aftab ur Rehman Rana, senior journalist Sohail Warraich, WCLA Director General (DG) Kamran Lashari, Coca Cola Government Affairs Head Dr Faisal Hashmi and many other senior officials from different private and public sector departments joined the event as guests of honour. Famous singer Adeel Barki also attended the event and performed on stage for the amusement of the chefs' community.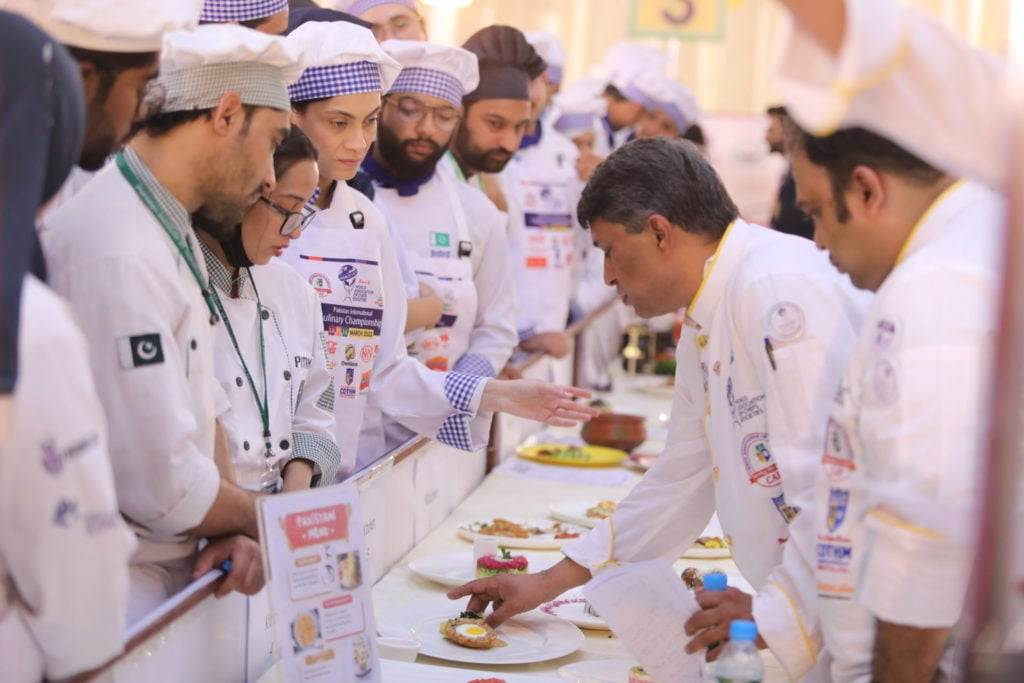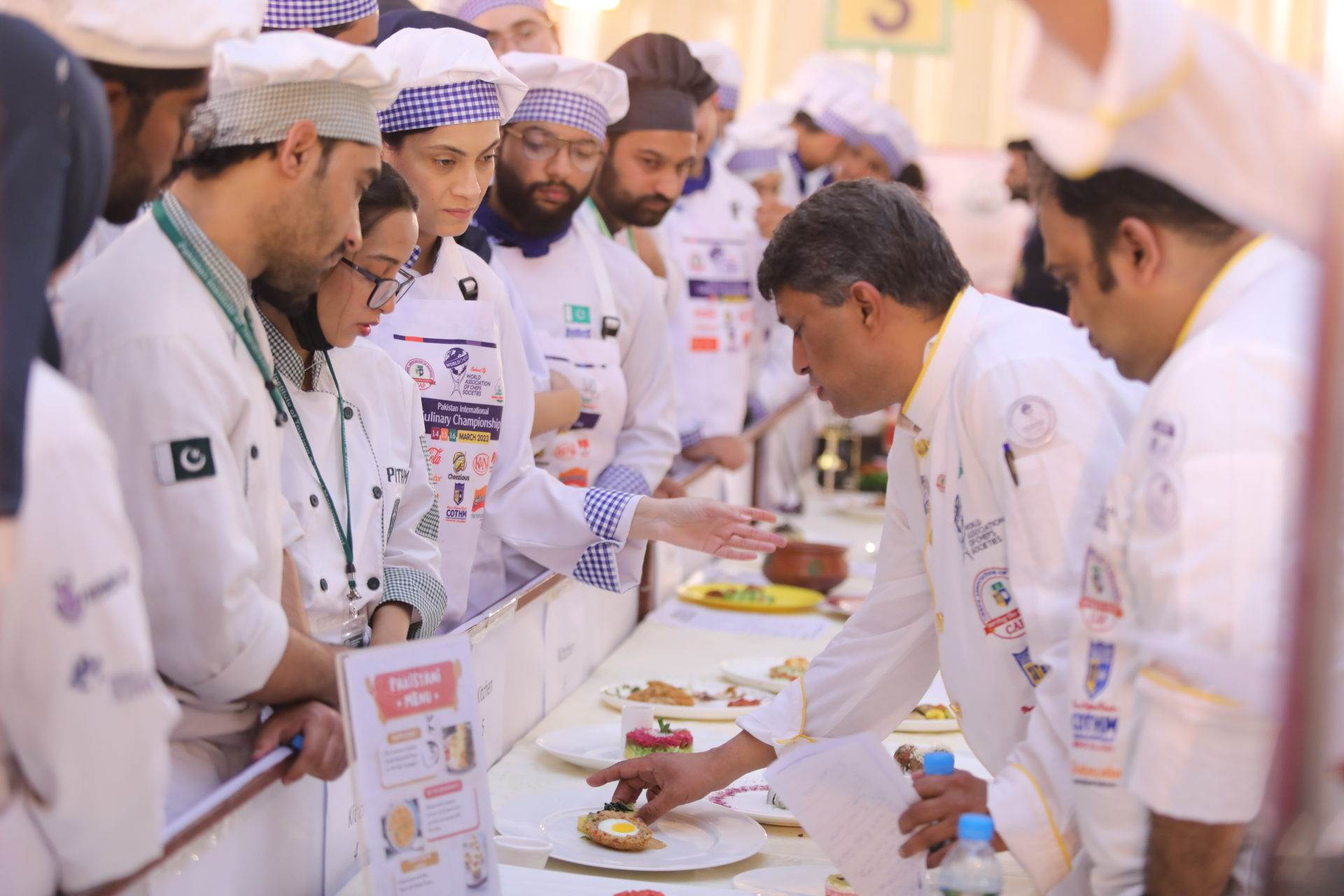 The 'Nations Parade' was a distinct feature of PICC 2023, in which chefs from different countries of the world participated and marched from the entrance of the venue towards the competitions arena. The parade was held on all the three days and not only international personalities but also local chefs, socialites, celebrities and other important personalities participated in that. Marching band and a group of students with international flags in their hands led the parade followed by all the guests and participants and had a round of arena. The international guests appreciated the spirit of Pakistani chefs and admired the services of Chefs' Association of Pakistan (CAP) for the chefs' community of Pakistan.
Coca Cola Pakistan & Afghanistan Vice President & General Manager Fahad Ashraf, Cheezious Pakistan Chief Executive Officer (CEO) Imran Ijaz, K&N's Foods (Pvt) Limited Chief of Multinational & Central Sales Syed Mughees A. Pirzada, Shangrila Foods Brand Manager Shahbaz Ali, Young's Food Business Development Manager (Lahore) Faizan Khan, Unilever Food Solutions Marketing Lead Umar Waqar, Gobi's Paints Brand Manager Hamza Hashmi visited and spent time at the venue along with their teams. They all were also awarded with exclusive souvenirs in recognition of their invaluable support for PICC 2023.
Competitions were held all the three days at Royal Palm's Silver Bell Marquee from 10AM to 8PM and around 3000 chefs competed in almost 17 different cooking categories. Professional chefs from various big brands of Pakistan competed for the titles of 'Best Cuisiner of Pakistan', 'Best Pastry Chef of Pakistan', 'Best Chef Pakistani Cuisine', 'Best Carving Artist of Pakistan', and 'Best Four Course Gourmet Team of Pakistan'. International chefs from different countries competed for the title of 'Best Cuisiner International'. National Culinary Team of Pakistan (NCTP) Captain Chef Raees supervised all the competitions while ensuring transparency and impartiality throughout the event.
A wonderful team of local and international chefs comprised the jury of PICC 2023. Under the headship of Chef Majeed Alsabagh (Head of Jury) from Syria and Waqar Ilyas Khan (Chief Coordinator-PICC 2023, Coach-NCTP, SVP-CAP), Chef Muhammad Raees (Pakistan/USA), Chef Manzoor Hassan Balghari (UAE), Chef Rima Zaid (USA), Chef Amer Rabah (Iran), Chef Domenico Maggi (Italy) and Chef Tauseef Butt (Pakistan) performed the duties as senior judges while Chef Usama Asghar, Chef Tipu Imran, Chef Muhammad Razzaq, Chef Sadaqat Sohail, Chef Shumaila Zafar, Chef Rizwan ul Haq, Chef Jahangir Hussain, Chef Asif Butt, Chef Hassan Arshad, Chef Faiza Iqbal, Chef Sher Ali and Chef Nawaz performed the duties as judges.
Chef Shamoon Barkat from Café Aylanto won the title of 'Best Cuisiner of Pakistan', Chef Muniza Khalid from COTHM Karachi grabbed the title of 'Best Chef Pakistani Cuisine', Chef Asad Malik from Cakes & Bakes took the title of 'Best Carving Artist', Chef Kahadam Hussain from English Tea House won the title of 'Best Pastry Chef of Pakistan', while the team of Chef Rizwan Abbasi, Chef Umer Chaudhary and Chef Muhammad Waqas from Pearl Continental Bhurban won the title of 'Best Four Course Gourmet Team'. Other than the main titles, a large number of chefs also won Gold, Silver and Bronze medals in different categories. To appreciate the chefs on their participation in the competitions, all the chefs were also awarded with participation certificates.
---
APPLY FOR A WORLDCHEFS ENDORSEMENT
Take your competition to the next level with Worldchefs competition endorsement, a prestigious recognition, achieved by competitions that meet the highest standards of quality. This endorsement provides exceptional opportunities for visibility to an audience of culinary professionals.

Benefits include:
Tap into a global community of chefs for greater networking and business opportunities.
Unlock new possibilities with optional digital badging and event competition software.
Gain free of charge digital badges for competitors and winners with co-branding opportunities.
Gain access to downloadable evaluation and scoring sheets on Worldchefs website.
Learn more and apply to endorse your competition: https://worldchefs.org/Endorsement/