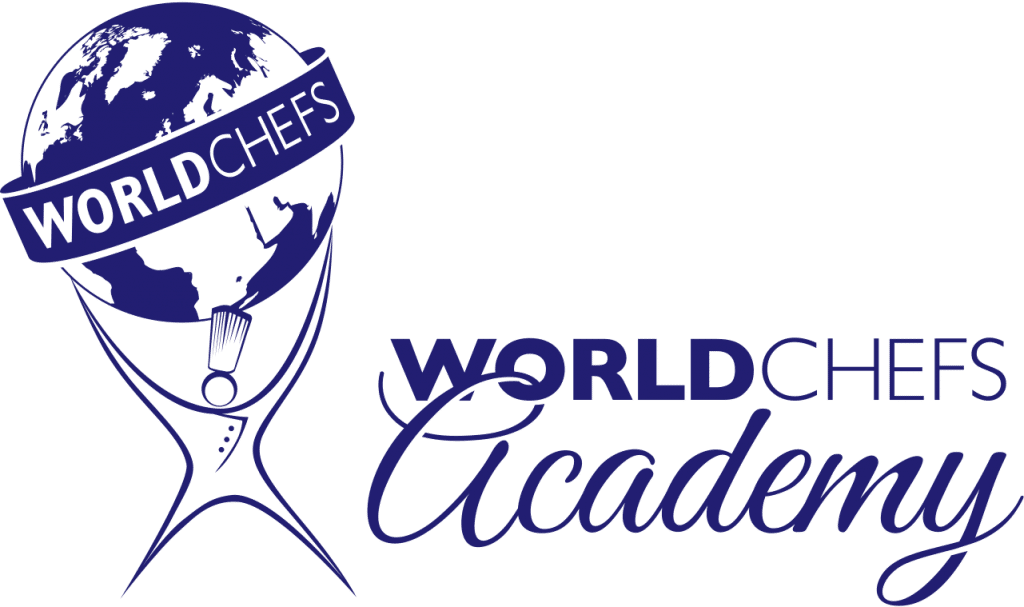 Ja Chef! German Pre-Commis Chef Course goes Live!
Paris, 9 of December 2021 – Worldchefs Academy is excited to announce the launch of the German Pre-Commis Chef Course! Adding to the line-up of free coursesavailable for our global community, the German Pre-Commis Chef Course joins the English, Spanish, Portuguese, Arabic and Italian Library!
"On behalf of the Worldchefs Board of Directors, I would like to congratulate everyone involved for making this educational opportunity available to aspiring Chefs in German-speaking communities around the world. We are extremely proud to be now offering the Pre-Commis Chef Course in 6 languages and will be adding Mandarin very soon", stated Worldchefs President Thomas Gugler.
With curriculum covering the basics of culinary professionalism, food service operations, culinary theory, hygiene, sanitation, basic cooking and nutrition, the Pre-Commis Chef Course can be followed as a complete curriculum or individual lessons can be utilized to compliment other existing courses or provide theoretical components towards culinary apprenticeship training.
Participants can learn through the online platform or via the mobile app also offering an offline study mode. The Pre-Commis Chef Course links to Worldchefs Certification opportunities and offers to be the first step towards a culinary career.
Worldchefs Academy would like to extend its sincere gratitude to Petra Maria Gugler and Elisabeth Volino for their contributions during the German Pre-Commis Chef Course review and for supporting Worldchefs Academy's efforts to offer this educational opportunity that will inspire future German Chefs worldwide. A hearty congratulations is also extended to Elisabeth Volino for becoming the 1st Worldchefs Academy German Pre-Commis Chef Graduate!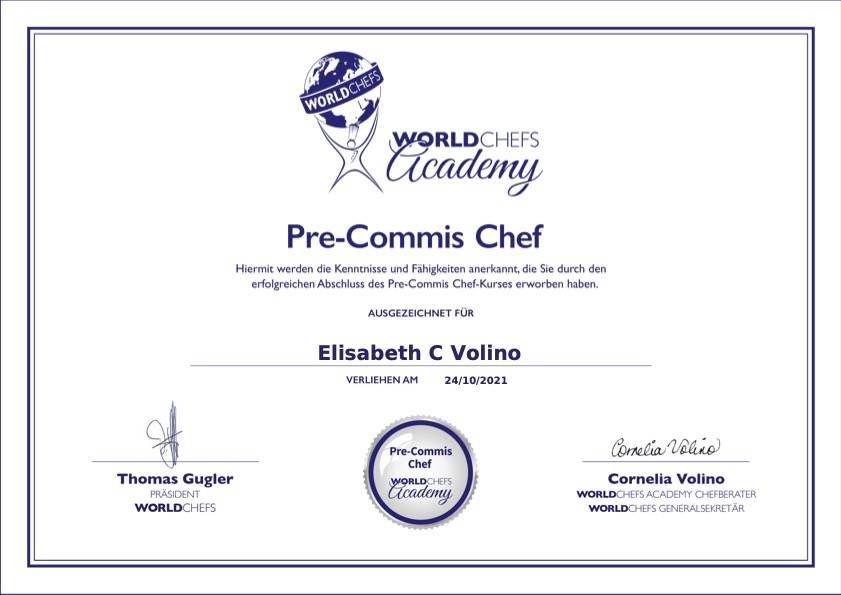 Worldchefs Academy is very proud to welcome Petra Maria Gugler as Worldchefs Academy German Advisor and looks forward to working together with her to promote, showcase, develop and expand the global reach of the German Pre-Commis Chef Course in the years to come.
About Worldchefs Academy
Worldchefs Academy, a division of World Association of Chefs Societies (Worldchefs), developed the Pre-Commis Chef online course and mobile app in conjunction with NestléProfessional and the Pro Gastronomia Foundation to offer culinary education for aspiring chefs that may not have the means, mobility or flexibility to attend full-time culinary school. The Worldchefs Academy mobile app can be downloaded on both the App Store and Google Play, and is available at www.worldchefsacademy.com
About Worldchefs
The World Association of Chefs Societies (Worldchefs) is a dynamic global network with over 110 chef associations worldwide. A leading voice in hospitality, Worldchefs carries 93 years of history since its founding at the Sorbonne by the venerable Auguste Escoffier. Representing a mobilized international membership of culinary professionals, Worldchefs is committed to advancing the culinary profession and leveraging the influence of the chef jacket for the betterment of the industry and humanity at large. www.worldchefs.org
For more information on Worldchefs Academy, contact: [email protected]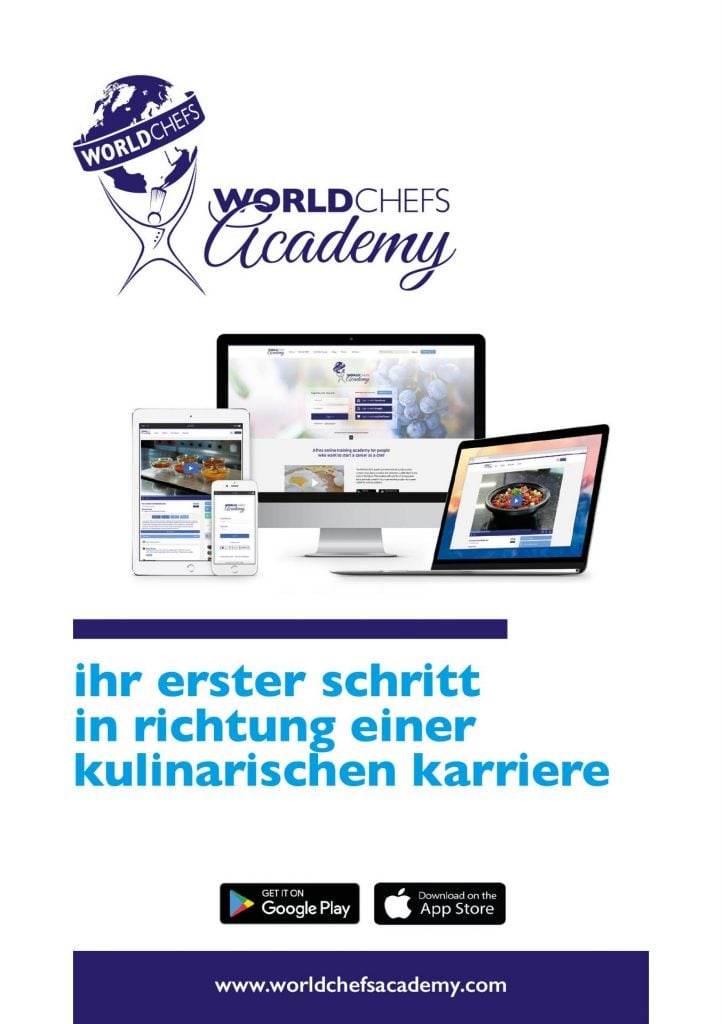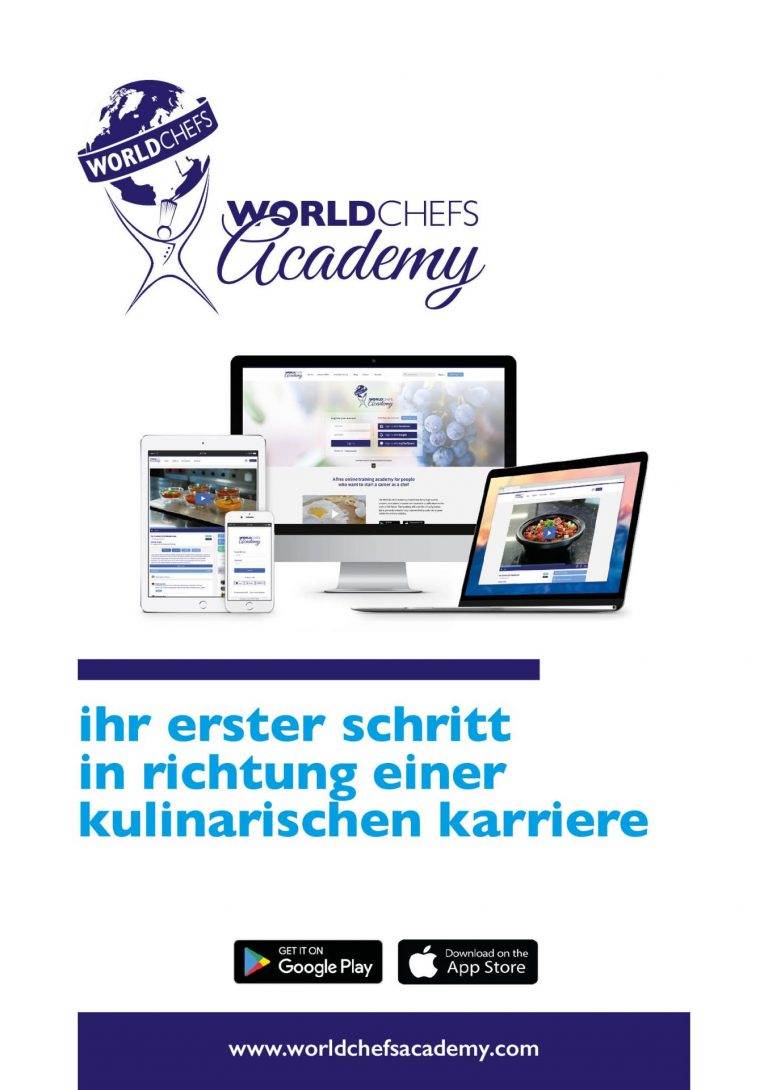 Ja Chef! Die deutsche Version des Pre Commis Chef Kurses ist jetzt aktiviert!
Paris 9. Dezember 2021 – Worldchefs Academy freut sich bekannt geben zu können, dass die deutsche Version des Pre Commis Chef Kurses aktiviert wurde! Die deutsche Version des Pre-Commis-Kochkures ergänzt das Angebot an kostenlosen Kursen, die durch ihre globale Vereinigung zu Verfügung stehen, und ergänzt ihre englische, spanische, portugiesische, arabische und italienische Bibliothek!
"Im Namen des Worldchefs Board of Directors möchte ich allen Beteiligten dazu gratulieren, dass sie diese Bildungsmöglichkeit angehenden Köchen, in deutschsprachigen Gemeinschaften auf der ganzen Welt, zur Verfügung stellen. Wir sind sehr stolz darauf, den Pre-Commis Kochkurs jetzt in 6 Sprachen anzubieten und werden in Kürze die Übersetzung in Mandarin hinzufügen", sagte Worldchefs Präsident Thomas Gugler.
Mit einem Lehrplan, der die Grundlagen der kulinarischen Professionalität, Gastronomie, Theorie im Bereich Kochen, Sauberkeit, Hygiene, Grundkenntnisse des Kochens und Ernährung abdeckt, kann der Pre-Commis-Kochkurs als vollständiger Ausbildungsplan befolgt werden oder einzelne Lektionen können als Ergänzung zu anderen bestehenden Kursen verwendet oder theoretische Komponenten für die Kochausbildung genutzt, werden.
Die Teilnehmer können über die Online-Plattform oder über die mobile App lernen, die auch einen Offline-Lernmodus bietet. Der Pre-Commis-Chefkurs ist mit den Worldchefs-Zertifizierungsmöglichkeiten verbunden und bietet den ersten Schritt in Richtung einer kulinarischen Karriere.
Die Worldchefs Academy möchte Petra Maria Gugler und Elisabeth Volino ihren aufrichtigen Dank aussprechen, da sie mit ihren Beiträgen, zur Überprüfung der deutschen Übersetzung des Pre-Commis-Kochkurses dazu bei getragen haben, die Bemühungen der Worldchefs Academy zu unterstützen, zukünftige deutsche Köche weltweit zu inspirieren. Herzliche Gratulation geht auch an Elisabeth Volino zum 1. Deutschen Worldchefs Academy Pre-Commis Chef Abschluss!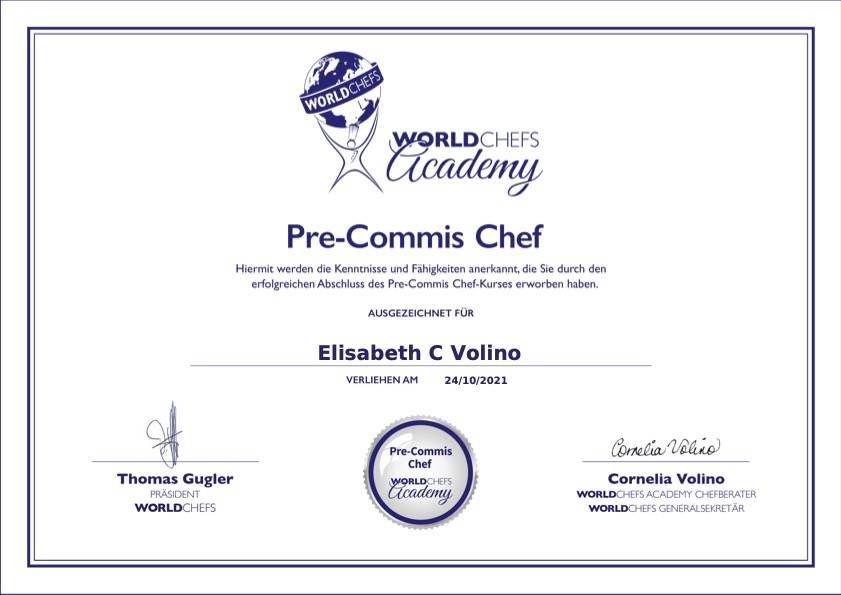 Die Worldchefs Academy ist sehr stolz, Petra Maria Gugler als deutsche Beraterin der Worldchefs Academy begrüßen zu dürfen und freut sich darauf, mit ihr zusammenzuarbeiten, um die globale Reichweite des deutschen Pre-Commis-Kochkurses in den kommenden Jahren zu fördern, zu präsentieren, zu entwickeln und auszubauen.
Über die Worldchefs Academy
Die Worldchefs Academy, eine Abteilung der World Association of Chefs Societies (Worldchefs), hat in Zusammenarbeit mit Nestlé Professional und der Pro Gastronomia Foundation den Pre-Commis Chef-Onlinekurs als mobile App entwickelt, um aufstrebenden Köchen, die möglicherweise nicht über die Mittel, Mobilität oder Flexibilität verfügen, eine kulinarische Ausbildung durch den Besuch einer Vollzeit-Kochschule bzw. -Ausbildung zu erhalten. Die mobile App der Worldchefs Academy kann sowohl im App Store als auch bei Google Play heruntergeladen werden und ist verfügbar unter www.worldchefsacademy.com
Über Worldchefs
Die World Association of Chefs Societies (Worldchefs) ist ein dynamisches globales Netzwerk mit über 110 Kochverbänden weltweit. Als führende Stimme im Gastgewerbe kann Worldchefs auf eine 93-jährige Geschichte, seit der Gründung an der Sorbonne durch den ehrwürdigen Auguste Escoffier, zurück- blicken. Als aktive internationale Vereinigung von Kochprofis setzt sich Worldchefs dafür ein, den Kochberuf voranzubringen und den Einfluss der Kochjacke für das Wohl der Branche und der gesamten Menschheit zu nutzen. www.worldchefs.org
Weitere Informationen zur Worldchefs Academy erhalten Sie unter: [email protected]