Eid al-Fitr marks the end of Ramadan, the holy month of fasting in the Muslim faith. It means 'Festival of Breaking the Fast'. Typically lasting two or three days, the festival centers around family, forgiveness, and gratitude, with good food to tie it all together.
Eid al-Fitr is the one day in the Islamic calender when fasting is forbidden. Families and friends enjoy a sumptuous spread of the finest regional dishes and favorite family recipes. Also known as Meethi Eid, or 'Sweet Eid', the celebrations include delicious sweets to delight young and old alike.
We've rounded up 4 recipes from the Worldchefs community to give you a taste of one of the most celebrated festivals around the globe.
Eid Mubarak and Bon Appétit!
Rose Balaleet from Chef Sabeen Fareed
This first recipe comes to us from Sabeen Fareed, a Patissier and instructor at the renowned International Center for Culinary Arts Dubai, a Worldchefs Education Partner.
Balaleet is a sweet and savory dish, made of sweet vermicelli topped with savory egg and enjoyed hot or cold. With traditional Eid al-Fitr breakfasts being a sweet start to the special day, this is a favorite Eid delicacy.
Ingredients:
For the Noodles
1 cup vermicelli
2 tbsp rose syrup
Rose colour, as required
For the Milk Sauce
100 ml evaporated milk
25 gm unsalted butter
4 tbsp sweetened condensed milk
1 pinch of cardamom
For the Egg Crepes
2 eggs, beaten
Salt, to taste
Oil, for making the crepes
2 tbsp cream chunks
2 tbsp ricotta cheese
Crisp vermicelli, as required
Mixed nuts, cropped, as required
Instructions:
In a pan, boil the vermicelli noodles for 3-4 minutes or till done. Remove in a bowl and add in the rose syrup and mix and reserve.
In a saucepan, heat the evaporated milk and butter, add in the cardamom and saffron, and mix in the condensed milk.
Pour this sauce on top of the vermicelli and set aside.
Heat 3 tablespoons vegetable oil in a separate pan. Add the beaten eggs with Saffron. Tip the pan in order to spread the uncooked egg into a thin crepe. When dry on top, flip the omelet over and cook for an additional minute.
Serve the vermicelli with Omelet, cream chunks, cottage cheese, crisp vermicelli, and chopped nuts.
Lamb Harees from Chef Musabbeh Al Kaabi
For Musabbeh Al Kaabi, Executive Oriental Chef at Jumeirah Hotels & Resorts and Worldchefs judge, harees were one of three special dishes his family ate for Eid. A wheat and meat porridge, his family served it alongside whole baby lamb mashwi, slow-roasted in a sandpit for hours.
"I've got endless memories of Eid. One of them was when we were all together one Eid, and we prayed together as a family early morning. The best [Eid] feeling is when the families get together and wish each other, and enjoy the best home-cooked cuisines by our Michelin chefs — our mothers!"
Ingredients:
• 1kg Lamb, bone-in
• 800g pearl barley or wheatberries
• 1tsp ground cardamom
• 20ml local ghee
• 2l water
Instructions:
Wash the barley and soak it overnight in water.
In a pot, bring the water to a boil. Add the barley and cook for 45 minutes. Add the lamb and continue cooking for two hours on a slow flame.
Add the cardamom and season to taste with salt and pepper. Cook for another 20 minutes.
Remove it from the heat and debone the meat. Blitz the mixture to a porridge-like consistency. Top with ghee before serving.
Murgh Mussalam from Chef Dirham Haque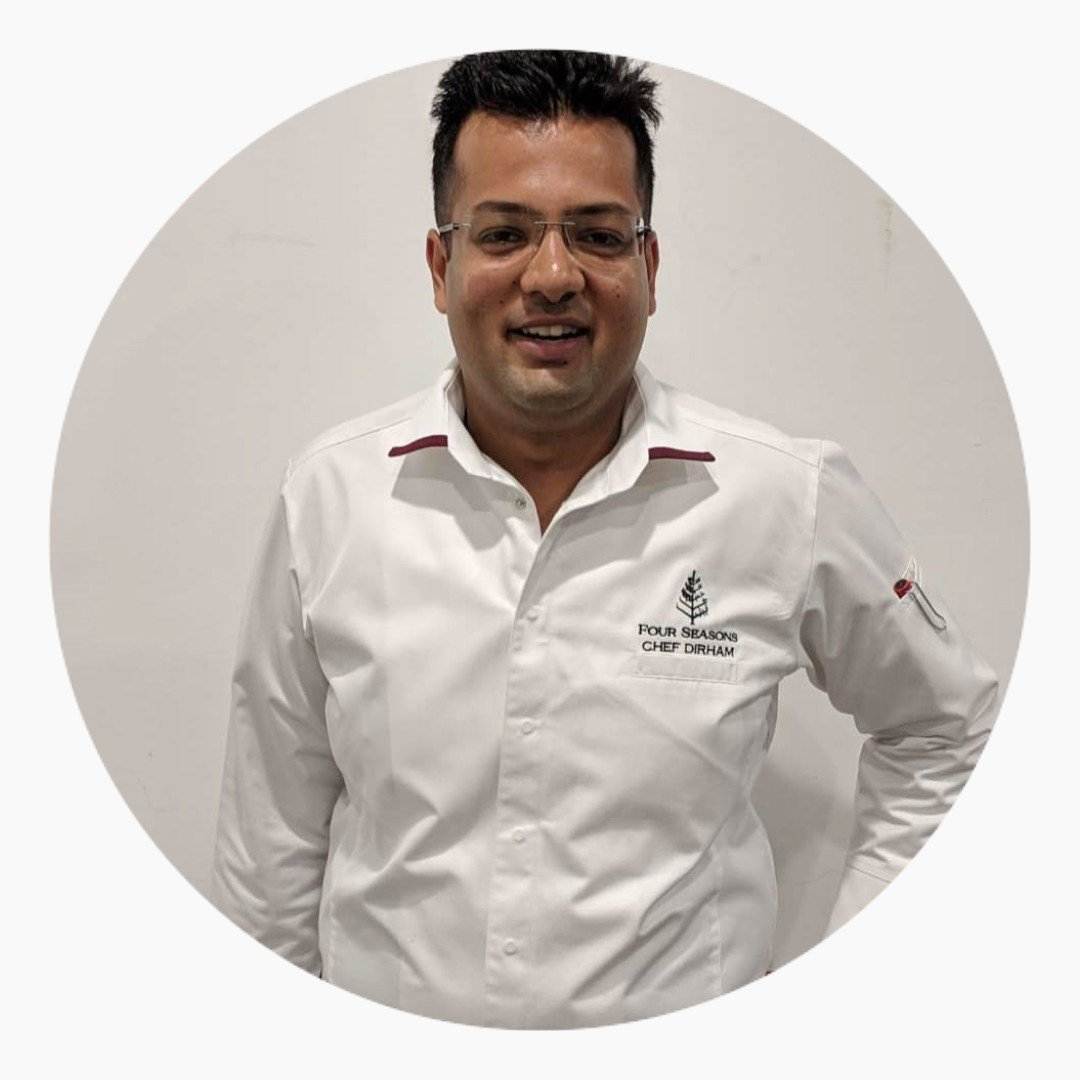 For New Delhi native Dirham Haque, he looked to royal Awadhi cuisine to define his festive feast. Mussalam denotes a dish which has something whole cooked together in a rich gravy. For this recipe, he stuffs and trusses a whole baby chicken before baking it with saffron, rose, nuts and onions.
"As children, we began Eid by getting ready in new clothes, followed by the morning Eid prayers, and friends and relatives coming over. We were given Eidi or spending money, and a sinful lunch and dinner followed. There would be three or four types of seviyan, lamb liver masala, lamb biryani, gosht korma, boti kebabs and shammi kebabs, all especially prepared from the fresh slaughter of that day."
Ingredients:
For the Chicken
• 1 whole chicken (450g)
• 20ml malt vinegar
• 30g ground Kashmiri red chillies
• 3tsp ginger paste
• 2tsp garlic paste
For the Gravy
• 20g desi ghee
• 2tsp green cardamom
• 1tsp cloves
• 2 bay leaves
• ½tsp mace
• 2tsp ginger paste
• 1tsp garlic paste, fried
• 25g curd
• 1 medium onion, sliced
• 2 garlic cloves, sliced
• 4tsp almonds
• 4tsp cashews
• 2tsp freshly grated coconut
• 25g tomato puree

For the Stuffing
• 75g chicken mince
• 1 medium onion, chopped
• 1 medium tomato, chopped
• 20g granular khoya
• 2tsp rosewater
• Pinch of saffron
• 2tsp almond flakes
• 1 egg, boiled
• 2tsp almonds, fried
• 2 tsp cashews, fried
• 2tsp raisins, fried
• Ghee, for frying
Instructions:
1. Clean the whole chicken thoroughly. Remove the wings, cut the passing snoar, remove the gizzard.
2. Rub the whole chicken with a mixture of 3 teaspoons of salt, ground red chillies, malt vinegar and ginger and garlic pastes. Allow to marinate for six hours in the fridge.
3. In a pan, separately fry the onions and garlic cloves until golden brown and grind to a paste. Set aside. Repeat with the almonds, cashews and grated coconut, frying each separately before grinding.
4. To make the gravy, in a pan, add the ghee, green cardamom, cloves, mace, bay leaf and allow to crackle. Add the ginger and garlic pastes and curd and saute for a few minutes. Add the pastes of fried onion and garlic. Cook for 10 minutes, then add the tomato puree, nut and coconut paste and cook until the oil separates.
6. Preheat the oven to 180 degrees Celsius.
7. Infuse the saffron in 50ml warm water for about 20 minutes. Divide into half, and soak the almond flakes in one portion.
8. To make the stuffing, in a pan, add some ghee. Add the chopped onions and tomatoes, and khoya and saute well. Add fried almonds, cashews and raisins, rose water, saffron water (without almond flakes) and chicken mince. Cook until done.
9. Stuff the whole chicken with the mince mixture, truss properly and fry in hot oil until brown. Pour the gravy on top of the chicken and roast in the oven for 15 minutes at 180 degree Celsius. Garnish with boiled egg, and saffron-soaked almond flakes.
Chai Date Roulade by Pastry Chef Malavika Raghavan
For this last recipe, we return to ICCA Dubai. Graduate and Certified Pastry Chef Malavika Raghavan's dessert of choice transports you to Arabia.
"There is so much nostalgia quite literally rolled into this dessert with a rich generous date filling sandwiched between layers of tender cake reminding you of another childhood favourite – Mammoul. This dessert is guaranteed to transport you to that feeling of Dubai in the 90's, eating dirham supermarket snacks in the heat of the desert sun."
Ingredients:
For the Cake
3 egg whites
45 gm caster sugar
3 egg yolks
15 gm caster sugar
1 tsp vanilla
30 gm all purpose flour
15 gm corn flour
3 ml milk
30 ml oil
½ tsp pumpkin spice mix
For the Filling
For the Topping
100 ml whipping cream
1 tsp black tea
Whole spices, as required
Pitted dates, as required
10 gm icing sugar
Almonds/apricot, as required
Gold leaf for garnish (optional)
Instructions:
Preheat the oven to 160°C. Line a 21 x 34 cm baking dish with parchment and set aside.
In a large bowl, whisk the 3-egg white, until foamy. Then add the sugar gradually and whisk until the egg whites are shiny and have reached stiff peak consistency.
In another bowl, beat the egg yolks and sugar until pale. Add in the milk, spices, and oil and combine. Finally fold in the sifted all-purpose and corn flour.
Scoop 1/3 of the Egg white mixture and mix into the egg yolk mixture. 
Pour this into the rest of the egg whites and fold carefully so the mixture is combined but still light and airy.
Pour into the prepared cake pan, smooth the cake batter to make sure it's even. Tap the pan to remove any additional air pockets and bake for 25 mins at 160 °C until golden brown.
Once cooled, easy out the cake from the baking pan, peel off the parchment and spread a thin even layer of the date paste.
With the short end facing you, roll the cake to form a log. Chill the cake in the fridge for 2 hours.
While the cake is chilling – prepare the karak cream by bringing cream, spices and tea to a boil. Let the flavours seep into the cream for 10 mins, then strain and cool the cream in the fridge.
Using an electric hand whisk, whip the cream in a bowl with icing sugar until you get stiff pipeable peaks.
Fill the cream into a piping bag with a rose tip. Remove the chilled cake, trim the edges to reveal the spirals.
Decorate the top of the cake with rosettes of karak cream, top with stuffed dates and gold leaf.
Thank you to Gulf News and ICCA Dubai for the original recipe posts.
You can find more updates, recipes, and stories from ICCA Dubai at blog.iccadubai.ae.